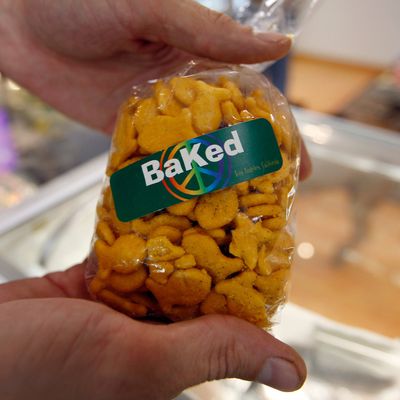 Probably best to just consider that THC content "a range."
Photo: David McNew/Getty Images
Gauging the amount of THC in a joint can be formidable work these days, so it makes sense that that's all the more true for THC inside food. (Isn't that right, Maureen Dowd?) The Oregonian apparently had its own doubts, so it conducted a three-month investigation into the purported potency of edibles in its home state. The results show that it's an unpredictable market.
The paper ran potency analyses on 15 pot-infused products available in Portland, from lollipops to "Herbucha," and only one of the amounts was accurate. The other 14 varied wildly, from ice cream that had 54 percent more THC than it should have, to pizza that had 85 percent less.
The larger problem is that well-meaning labs can still produce crazily inconsistent potency results, partly because scientists can't agree on the standards for testing marijuana-infused foods. THC levels can even vary from one bite to the next: A test of peanut-butter cookies baked in the same oven, on the same pan, returned THC levels ranging from 154 to 391 milligrams. That answers the age-old question: Why is your friend is so much higher than you, even though you ate the same number of brownies?