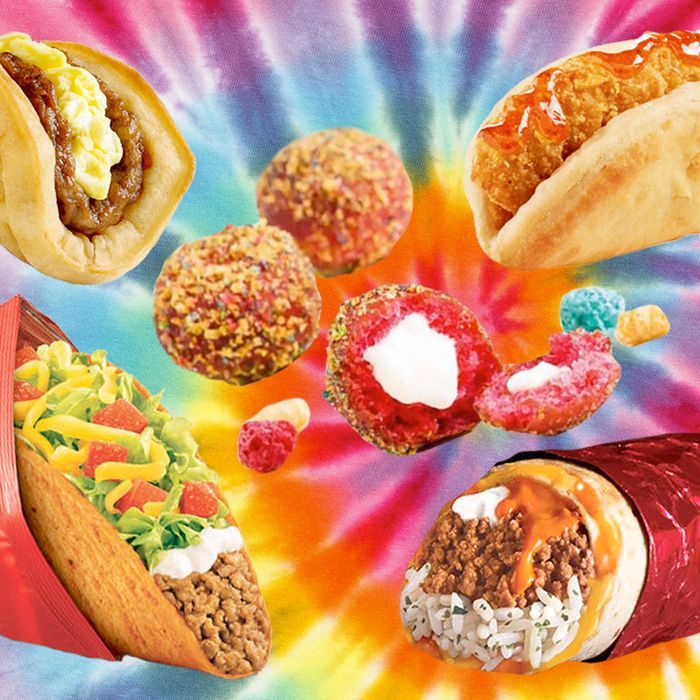 These all seem more like "munchies experiences."
Photo: Konstantin Sergeyev
Over the past several years, spurred on by the massive success of the Doritos Locos taco, Taco Bell has set itself apart from other fast-food chains by introducing a run of over-the-top food mash-ups: Cap'n Crunch Delights, the Sriracha Quesarito, Flamin' Hot Fritos "dip," and Starburst smoothies. And this week will see the debut of a fried-chicken-stuffed Biscuit Taco as part of a new breakfast initiative. There's a unifying element here: This all sounds like food that would definitely appeal to people with the munchies. But, as Taco Bell CEO Brian Niccol explained to Grub, that's simply not the case. Instead, the chain is simply targeting millennials looking for what he calls "foodie experiences" (that also happen to be affordable). Here's what he had to say:
Overall, how do you think Taco Bell is doing right now?
The last couple of years, some really big initiatives [have] come to market: the Doritos Locos taco, our most recent breakfast launch, mobile ordering, mobile payment, reinventing the $1 menu — at the end of the day, they really resonated with our key customers as well as [with] millennials. What we've been after is building a brand that people truly champion.
But as you look at 2015, where are we going? The good news is that we're going to continue to build on our breakfast launch. It's a huge opportunity. It's one of the only growing parts in fast food. We've demonstrated to people that you can do bacon and eggs in a different way, and consumers have responded. Because they're tired of the same-old, same-old.
What are the new breakfast items? How crazy are they getting?
You're going to see us continue to build on the innovation that we have with the Crunchwrap and the Cinnabon Delights. We're adding the Biscuit Taco: We've taken chicken and biscuits, or biscuits and eggs, and modernized it. We've made it portable and more affordable. And then we're going to do products like Cap'n Crunch Delights, which has a little bit of nostalgia, because consumers have told us that in the morning, they don't even have time anymore to make cereal. So how do we get the flavors and experiences of cereal to be portable? Well, we make Cap'n Crunch Delights.
It seems like Taco Bell is really embracing stoner food. Are you mindful of that?
Actually, you're kind of off the mark. The reality is: I think millennials have really become more like foodies, and what they are looking for are foodie experiences in fast food. Now, some people may think a foodie experience is some fancy ingredient you can't pronounce. The millennials think that putting Cap'n Crunch into a new form is a foodie experience. Serving a Sriracha Quesarito is a foodie experience.
And, oh — by the way — these foodie experiences are affordable. Most people think the foodie experience is going to some white-tablecloth, high-end experience. Well, we just don't think that's right. Millennials' tastes have evolved to where they want these unique foodie experiences, and the definition of that is from Cap'n Crunch to Sriracha.
What's the testing process for a product like Cap'n Crunch Delights?
We've got this segmentation on people's [minds], and it's from social-status-seekers to edgy-cravers. Because in the end, remember that we're a brand that ignites the unexpected. So our point of view is we want to appeal to people's tastes, but we also want to appeal to the spirit of where they want to go. And what millennials have told us is, "Hey, look, we crave your food, but to really make us champion your brand, you've got to give us more than just crave-able food" … In the end, people start out as users, and our goal is to make them fans.
But are you aware that for many young people, items like Starbust Freezes and Doritos Locos Tacos are just fun drunk foods, not serious "foodie" experiences?
First of all, I don't think being a foodie means being serious. "Foodie," for us, is about the unexpected, the experimentation, the journey, the idea of being a bit of a pioneer, and the exploration. The Starburst Freeze is a great example of giving people an experience in a smoothie that they're truly excited about. With the Doritos Locos taco, some people say, "It was so obvious — what took you so long to do it?" You know, the Biscuit Taco's got a jalapeño-honey drizzle. Five years ago, would you find jalapeño-honey drizzle in fast food? Probably not. My point is: Jalapeño honey doesn't make it serious. Jalapeño honey is a great way to give people another flavor experience. And also, when it's on a Biscuit Taco, [that] makes it fun.
What defines Taco Bell food is that it's got to match millennial tastes, which is really a foodie experience in an affordable fashion. It may be hard to wrap your head around because most people think foodie means "expensive." Well, I think we can hack the high end. That's what we're doing. We're going to hack the high end because it's the right thing to do. It's what our fans want.
If you could pick any brand to collaborate with, what would it be? Should we expect to see a Lucky Charms crossover?
One of the things you will see us putting on the list is a Chili Frito Taco. But we also have foods that we create that [are] all our own. Right now we're testing the Quesalupa, which is a fun twist on the Chalupa — but now [we] have a cheesy stuffed Chalupa experience. And most recently we did Crunchwrap Sliders, which people absolutely raved about. We do collaborations opportunistically.
How are you dealing with the recent food-allergy craze? Do you care about gluten-free customers?
Whatever lifestyle you have, frankly, I've got choices for you. I love this term, frankly, that some of these young folks talk about: flexi-tarian. On Monday, they don't eat meat; on Tuesdays, they are carnivores!
And we are looking into gluten-free products. It's something that pops up, and I think we can actually do it in a very crave-able way. But what's going to define our brand is not, probably, gluten-free food … Frankly, we're probably the most crave-able vegetarian option out there. If you talk to vegetarians, they'll tell you our bean burrito is top-shelf.
At SXSW last week, David Chang said that he loves the Taco Bell app. What other tech-related projects are you working on?
Taco Bell has become Taco Bell on-demand. What do I mean by that? Well, whether it's our team member or our customer — however you want to access our restaurant or access our food — I think technology can help in a big way. So this year, we're going to be adding a gaming element to our mobile app. We're also going to be updating our dot-com experience so you can go through our mobile website and have access to ordering. What does the technology of the future look like in our stores? We want to continue to experiment and be one of the leaders in the space. There's lots of exciting stuff coming.
What does someone have to do to become one of the few people Taco Bell follows on Twitter?
I don't know the magic to that algorithm. I keep trying to convince our social-media team to follow me, but I haven't had luck yet.