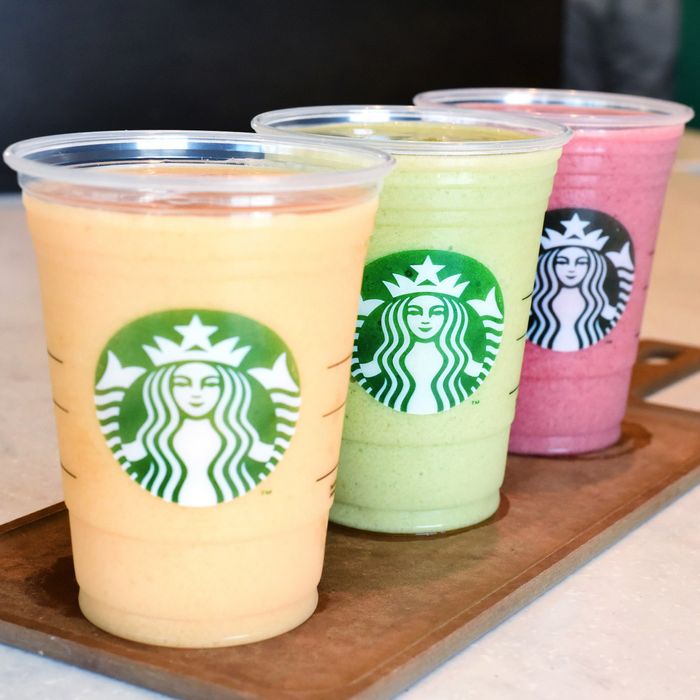 You can add kale to any of the drinks, for a cost.
Photo: Starbucks
It looks like Starbucks is getting serious about its smoothies — a major step up from its mere "smoothie-like drinks." The company is even adding kale, so it can stay right on trend: A new line of Evolution Fresh Smoothies — available today at stores in northern California, Washington, Oregon, Alaska, and parts of Idaho — is intended to cash in on the $2.2 billion smoothie market.
The new drinks at Starbucks are made from Dannon Greek yogurt and cold-pressed juice,* and they come in three flavors — Sweet Greens, Strawberry, and Mango Carrot (all $5.95). But the clear selling point is the ability to customize by adding kale.
Starbucks started testing these smoothies last summer, and it's the first update since the company introduced Chocolate, Orange Mango, and Strawberry smoothies with whey powder, way back in 2008.
The trend-minded chain recently got more serious about coffee, too: Today, it introduced cold brew. But the smoothie line may presage the bigger shift — Starbucks promises more Dannon yogurt products, like parfaits, will follow in the coming months.
* This post has been corrected to show that while the smoothies all use cold-pressed juices, not all of the juices are green.
[Reuters]