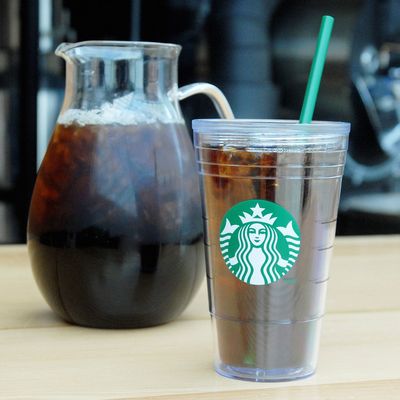 Smoother and richer, baby.
Photo: Courtesy of Starbucks
Starbucks loyalists, your unspeakably long wait for proper cold-brew coffee is over. After making a brief test-market cameo last August in Boston and San Francisco, superior-tasting iced coffee is finally rolling out at more than 2,800 locations in the northeast, mid-Atlantic, and Midwest. (Cold-brew fans down south and on the West Coast, we're not sure what the holdup is, but one imagines if this initial rollout goes well, your time will come.)
Given cold brew's incredible simplicity and incredible popularity, the delay may seem odd to anyone who's ever wondered why stores keep acquiring those $10,000 Clover machines that nobody even uses, but the company apparently really wanted to get this one right. As such, Starbucks cold brew will steep for a whopping 20 hours, which is quite a bit longer than the 12-hour New Orleans steep-and-strain method popularized by places like Blue Bottle. The testing team says it did double-blind tastings, and that's "the perfect spot where the coffee was rich, dense, and slightly sweet."
Of course, wide appeal could actually be the Achilles' heel of a drink so slow to prep. A rep tells Eater quantities will be limited to a single batch per location per day, an amount equal to a mere 40 Grandes. Cold brew might just have to become your wake-up cup. It debuts March 31, which means the chain actually has a little over two weeks that it could use to brew up some reserves.