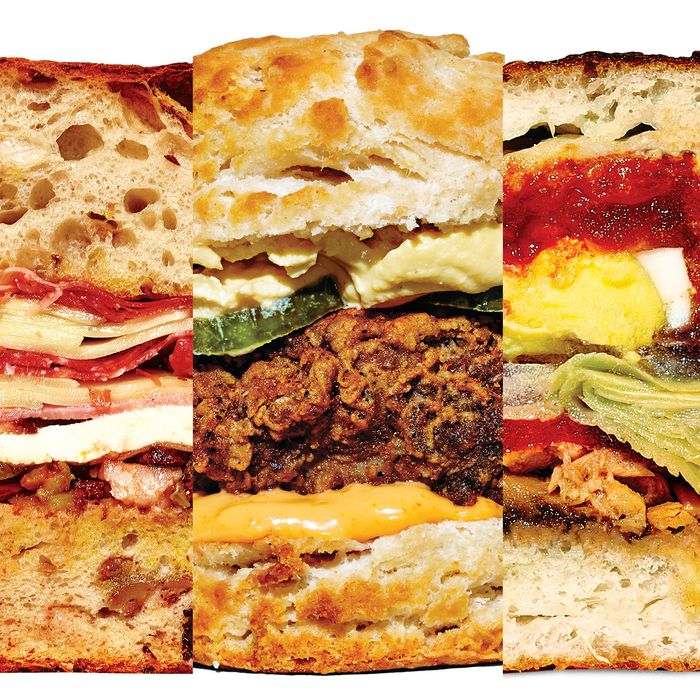 Some celebrate the arrival of spring by taking in the tulips along Park Avenue's median or maybe listening for the raspy chirp of a warbler in Central Park. Others, however, like to mark the occasion by tucking into an outsize sandwich in the open city air, such as it is. For them, here's a preview of the latest, most drool-inducing specimens — the newest ventures from two between-the-bread masterminds, a couple of inspired Smorgasburg debuts, and a West Coast-style burger on a new-to-New York bun.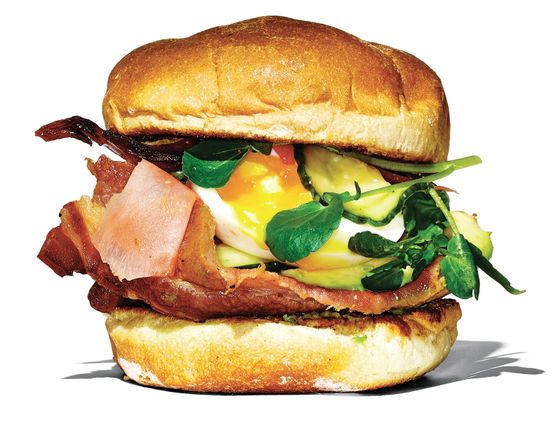 1. Asian Bacon Sandwich, $9
What: Thick-cut soy-and-pink-peppercorn-cured bacon, Chinese sausage, soft-cooked egg, avocado, watercress, and pickled cucumber and ginger on a toasted potato bun.
Where: Rise & Swine Smorgasburg stand, a new bacon-forward breakfast-sandwich purveyor from husband-and-wife team Jill Meerpohl and Chris Davin, who also run Smorg's El Gato Nacho stand; starting April 4.
Bona fides: Meerpohl honed her sandwich-making skills at the excellent Saltie sandwich shop; Davin cures his own bacon and cooked at Egg, where the art of the breakfast sandwich — mankind's greatest achievement in breakfast cookery — is unsurpassed.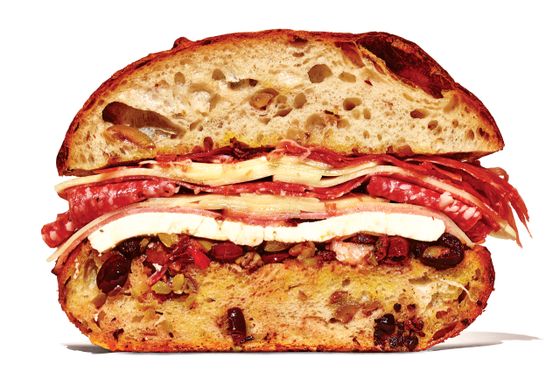 2. Three-way Muffuletta, $15 for a half-loaf-size sandwich
What: Six-inch-tall take on the New Orleans classic including three meats (prosciutto, smoked ham, salami), three cheeses (Swiss, mozzarella, provolone), and three types of olives on Grandaisy Bakery's titanic olive loaf.
Where: Lord Hamm's, Corey Cova's upcoming meat-centric takeout sandwich shop; 226 E. 3rd St., nr. Ave. B; no phone yet; late April.
Bona fides: Cova is an undersung sandwich genius, having served as the opening chef at Earl's Beer & Cheese, where his brainstorms included Hudson Valley foie gras on Eggo waffles, and mozzarella with dill pickles, miso mayo, and potato chips on Thomas' English muffins.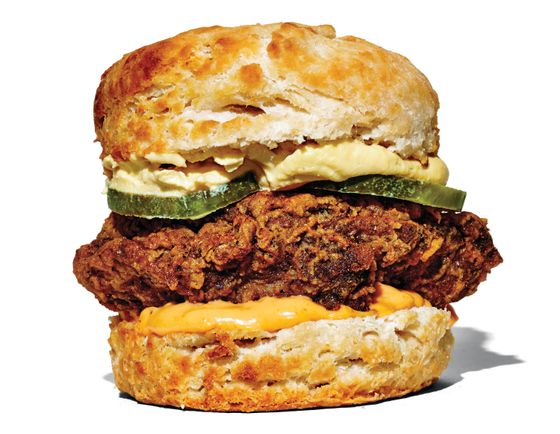 3. Hot-Chicken-and-Egg Biscuit, $11
What: Buttermilk-fried chicken thigh layered with deviled-egg sauce, dill pickles, and preserved-lemon aïoli on a buttermilk biscuit.
Where: Birds & Bubbles Smorgasburg stand, debuting April 4.
Bona fides: Southern-reared chef Sarah Simmons is a confessed hot-chicken addict, but waited until now to sell her own. ("Not being from Nashville, it didn't seem authentic," she says.) She has reformulated her Birds & Bubbles brunchtime chicken biscuit with a chile-spiked seasoning mix, which she gauges as somewhere between six and eight on a ten-point heat scale and plans to start selling in a Williams-Sonoma kit this May.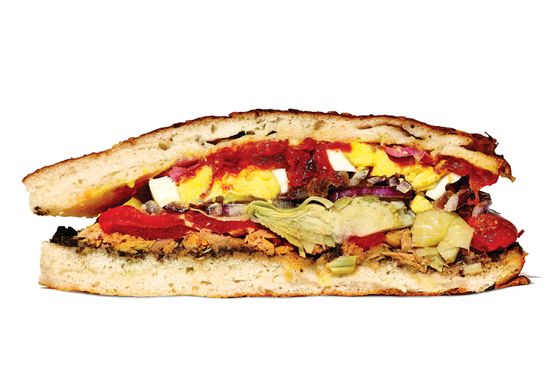 4. Tuna SOF (South of France), $10
What: A pan bagnat by way of Chinatown: tuna, anchovies, hard-cooked egg, roasted tomatoes (fresh, in season), artichoke hearts, red onion, pickled veg, roasted red peppers, and olive spread on the kind of sesame-seeded Chinese fry bread you find at the city's five-for-a-dollar dumpling joints.
Where: BYGGYZ, the three-years-in-the-making Lower East Side sandwich shop by Dewey Dufresne (a.k.a. Wylie's dad); 37-39 Clinton St., nr. Stanton St.; no phone yet; late April.
Bona fides: Dufresne ran the pioneering cafeteria-style Joe's sandwich shop and the seminal locavore restaurant Joe's Upstairs in Providence in the '70s. As we've said before, he's like a cross between Alice Waters, Kenny Shopsin, and Katz's deli.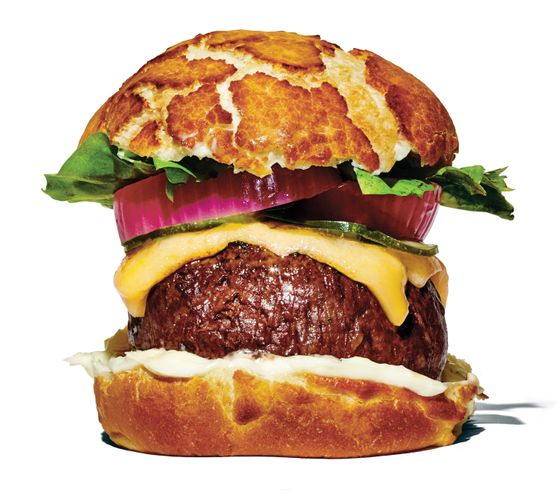 5. Cheeseburger on Dutch Crunch, $16 with fries
What: Pastured Vermont beef festooned with pickled onions and cucumbers, Gruyère, housemade mayo, and escarole, on a style of bun that originated in the Netherlands and thrives in San Francisco.
Where: Bar Bolinas, the new Northern California-themed sophomore project from Allswell chef Nate Smith and his baker wife, Sophie Kamin; 455 Myrtle Ave., nr. Washington Ave., Clinton Hill; 718-935-9333; late March.
Bona fides: Smith and Kamin nod to their West Coast roots with ingredients like sourdough, oysters, artichokes, Meyer lemons, and tri-tip steaks, but nothing evokes the Bay Area more than the Dutch crunch, a sandwich roll with a distinctive raised-pattern crust made from a yeast-and-rice-flour paste applied before baking.
*This article appears in the March 23, 2015 issue of New York Magazine.