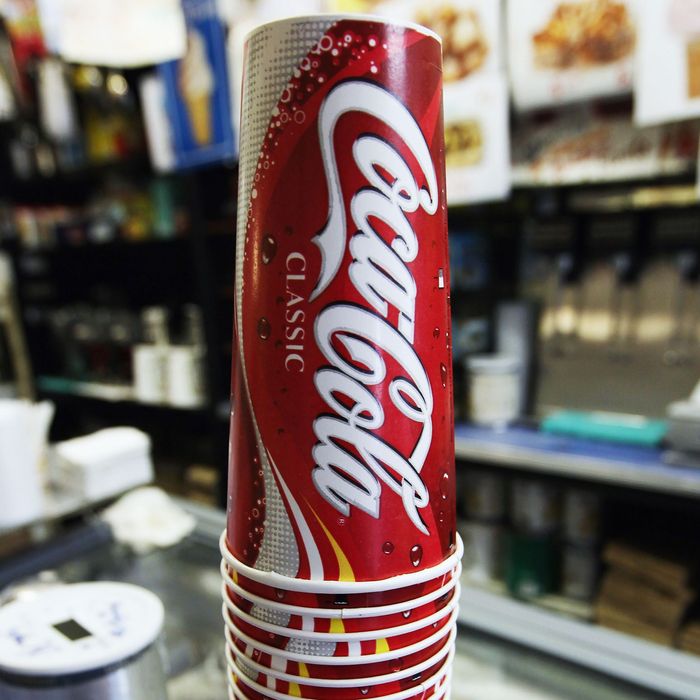 The end of days.
Photo: Mario Tama/Getty Images
If fewer and fewer Americans drinking soda weren't bad enough for Coca-Cola and PepsiCo, here are two more blows: Elected officials in San Francisco just introduced a bill that will require all soda ads citywide to carry a label that reads "Warning: Drinking beverages with added sugar(s) contributes to obesity, diabetes, and tooth decay. This is a message from the City and County of San Francisco."
The alert would apply to ads on any "surfaces" in the city — that is, billboards, sides of buses, bus-stop shelters, and posters. It wouldn't apply to magazine ads or TV ads, but that's only because the city lacks authority to regulate them. City supervisor Malia Cohen, a sponsor of the bill, says she and other backers want to "fundamentally" hold sugary beverages to the same standards as alcohol and tobacco.
This hit at the same time that Burger King discreetly yanked the soda option from kids' meals. The move occurred last month, a rep confirmed to USA Today this morning, saying that the chain wanted to "match lifestyle needs," making it the last of the big three burger chains to do so. The new options are apple juice, nonfat milk, and low-fat chocolate milk. Kids can still ask for a soda, though. Or really give the Man the middle finger and substitute a Frosty.