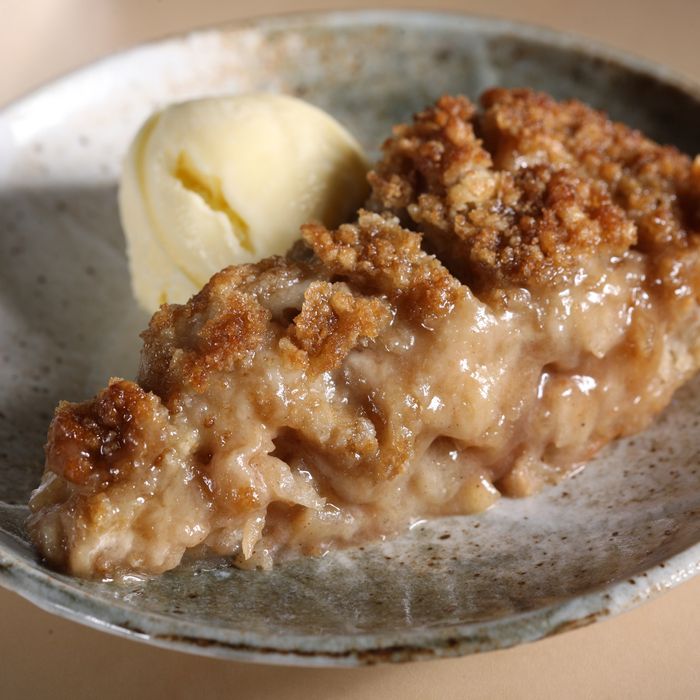 The pie itself contains a hint of miso and arrives with bay-leaf ice cream.
Photo: Melissa Hom
Customers at Shuko probably don't expect to see apple pie at the end of their $175 multi-course omakase experience, but that's exactly what co-chefs Nick Kim and Jimmy Lau send out for dessert. And like any good apple pie, it's warm, nostalgic, and comforting. (In his three-star review, Times critic Pete Wells called the pie "a dessert that is so unluxurious and un-Japanese and wonderful that the chefs seem to be smiling to themselves every time it's served.") Now Kim plans to expand Shuko's pastry program, introducing new breads and desserts, and come springtime, he might even switch to peach pie. Curious about this development, Grub called the chef to ask what inspired him to serve pie, and how it's become a hallmark of his restaurant. Here's what he had to say:
During the summer, we did a pop-up in the Hamptons, and I brought out my little nephew. I've missed a good amount of his life while I've worked as a chef in New York, so I spent a lot of time with him. We bonded over his love of apple pie. It was all he wanted to eat. He was gaga over pie!
I started working on a pie that I could make for him and also serve at family meal. And it actually started to taste pretty good! I developed the apple pie on a nightly basis and always had my nephew taste it. At the end of the night, it brought people together. We'd eat sushi, and then, pie. The pie is like a hug — it's so comforting. Spiritually, it seemed to be the right direction for Shuko.
Naturally, a lot of people — even my chefs — were skeptical. It was hard for people I've worked with for many years to understand how we were going to end the night with pie. But as soon as people ate it, they understood why it made sense. It brings warmness to the meal. And so far — knock on wood — people aren't like, "What the hell?" Yes, sometimes a customer will want a piece of fruit, or something very Japanese, and they get a little grumpy. But I'll hear that customer talking about how angry he or she is that there's pie, and then, the next minute, the pie is finished.
Our recipe is pretty simple. First and foremost, it's about apples: We get upstate local apples at the Greenmarket from Migliorelli Farm. We make a classic French pie dough with layers — a cross between a puff pastry and a pate brisee. There's a miso that's added to the dough to help with the umami: The miso acts as a weird binding agent as well, and also a sweetener. We roasted the apples whole so that they're hard but tender, and then we slice them and sauté them. We bake the pie and let it sit on the counter — like how a diner displays the pie. Finally, we garnish it with burnt-bay-leaf ice cream, using Indian bay leaf, Moroccan bay leaf, and Irish bay leaf.
This started with the intention of serving just apple pie, but it seems like people are really enjoying it. We definitely plan on doing spring and summer pies with other fruits, so we can keep fulfilling that sense of enjoyment. We're actually moving toward making more pastries and breads and pies. We do a lot of baking downstairs, and it's getting more ambitious. We're working on a seaweed bread and looking forward to getting peaches from our friends in the Hamptons. It's rare for a Japanese restaurant — or any restaurant these days — to have a pastry program. People are scratching their heads. But it's very exciting!