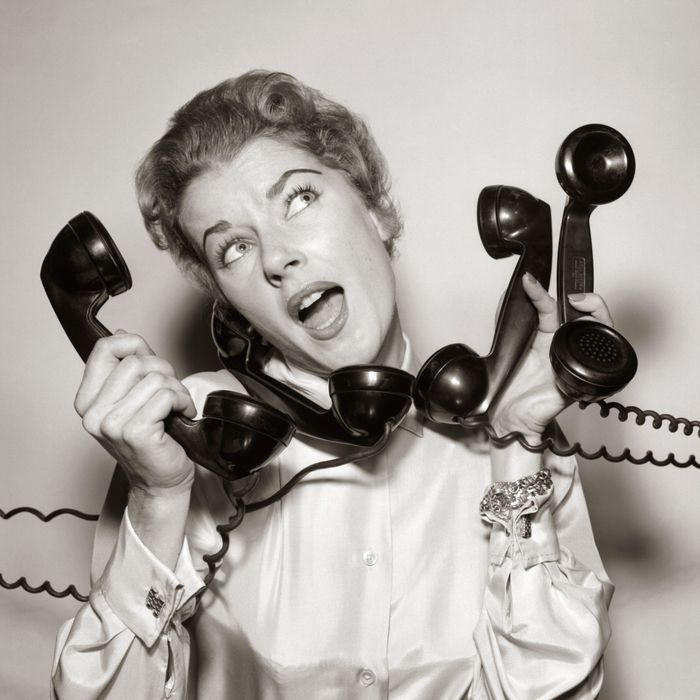 How it will look when Mission Chinese Food starts taking rezzies.
Photo: DeBrocke/Corbis
For a while there, it seemed as though New York's restaurants might never take proper reservations again. Owners instead posted live video feeds of their restaurants' lines, or offered apps that showed customers exactly how long their waits would be, or more simply, just took down potential customers' cell numbers and texted them when a table was ready (sort of a micro-reservation, taken one hour out).
"Ten years ago, people were so used to stuffy rituals of tablecloths and silverware and crystal and reservations," says Ivan Orkin, the noodle whisperer behind Ivan Ramen. "A lot of younger chefs started to say, 'If you want to eat here, just show up.'" The advantages of a no-reservations policy for an owner are obvious: No need to pay a reservationist when the restaurant is closed, no-shows aren't an issue, and big crowds waiting outside restaurants can telegraph popularity, in turn possibly attracting more customers. For diners, no-rezzie policies can feel more democratic than a reservation book blocked off with VIP tables. For a time, the practice became so widespread that New York critic Adam Platt took to calling the whole phenomenon "the No-Reservations Generation."
And so it's surprising that, in the last few months, restaurants that might have appealed to that generation — even ramen shops like Orkin's, or Long Island City's extremely popular Mu Ramen — have taken a step back and begun taking traditional reservations once more. Danny Bowien's Mission Cantina takes them (though the new Mission Chinese Food is still walk-in-only, for now). Andrew Carmellini's casual pasta spot Bar Primi eventually relented as well. The popular Thirty Acres in Jersey City began taking them before going one step further and moving to an all-tasting format. M. Wells Steakhouse — an evolution of the original M. Wells, which was legendary for its multi-hour waits — employs the Yelp-owned SeatMe service for its bookings. And most recently, the owners of both Franny's and Pok Pok Ny — poster children of the No-Reservations Generation — announced that they, too, would begin taking reservations for parties of all sizes.
In the cases of Franny's and Pok Pok, the owners say the policy change was partly due to moves to bigger locations — both restaurants took over larger spaces nearby in the last couple years. "When we were in a smaller space and the majority of our guests were local, reservations were not important," says Franny's co-owner Francine Stephens. "As our space grew and our clientele grew, the definition of hospitality has grown to include reservations." Pok Pok's Andy Ricker adds that his larger space might be more comfortable for guests, but he needs to work harder to fill it: When Pok Pok Ny was only 30 seats, "it was a mob scene. We're now 70 seats but people are thinking it's still a nightmare wait. If you get a little bigger reservations start to make sense. If you're Gabe Stulman and you've got a bunch of 30-seat restaurants, why the fuck would you take reservations?" (To be fair, Stulman does accept reservations at several of his places: Perla, Montmartre, and Fedora.)
For Ricker, reservations are also a way to try to ensure the restaurant can fill up during off-hours. "Keeping employees around is expensive," he says. Rent, food, and service costs have all gone up. "Your profit margins are getting munched into, and if you're not full it's just difficult to stay in business. We're looking at any means necessary."
Owners also say reservation technologies have finally caught up to their needs: OpenTable has become smarter, and chefs can access it via an app instead of being forced into installing a clunky console at a host stand. "Anyone who worked in restaurants before OpenTable existed knows that managing it yourself is a real challenge," Orkin says. Now the system can learn table-turning patterns and dynamically rearrange a restaurant's seating options. All owners have to do is decide how much space they want to set aside for walk-ins. At Ivan Ramen, the dining room is split 50/50. "You can block out whatever you want," Orkin explains. "I can say, 'My mom and my sister are coming in, put them at table 31.'"
Owners who pay the monthly fee — which is negotiated on a restaurant-by-restaurant basis and which, as a result, nobody felt comfortable sharing with Grub Street — say it's generally worth it because joining makes it easier for customers to book tables, and it also helps them tap into the company's marketing and promotional resources. At Pok Pok Ny, that can translate to 75 reservations on the books on what might otherwise have been a slow Tuesday night.
Still, others actually do take reservations the old-fashioned way, like the 22-seat Mu Ramen. "My entire staff is seven people," says Mu owner Joshua Smookler. "I don't have time to sit there and manage OpenTable." In fact, when the restaurant opened in December, Smookler didn't accept bookings at all. He says the restaurant handled 160 covers on a typical weekend night. However, after graciously moving to a policy of accepting same-day reservations via phone, the number fell to more like 120. "It literally dropped overnight," he says. "All my restaurant friends look at me like, 'You're nuts.'" So why bother? "I just felt so bad when I saw people standing out in the cold."
So he, and others, are sticking with the policies for now. Orkin even says that colleagues began checking in to see how it's working out: "Once we started doing this, a lot of our friends and neighbors began saying, 'If Ivan can do it, maybe we can.' People are moving in that direction."