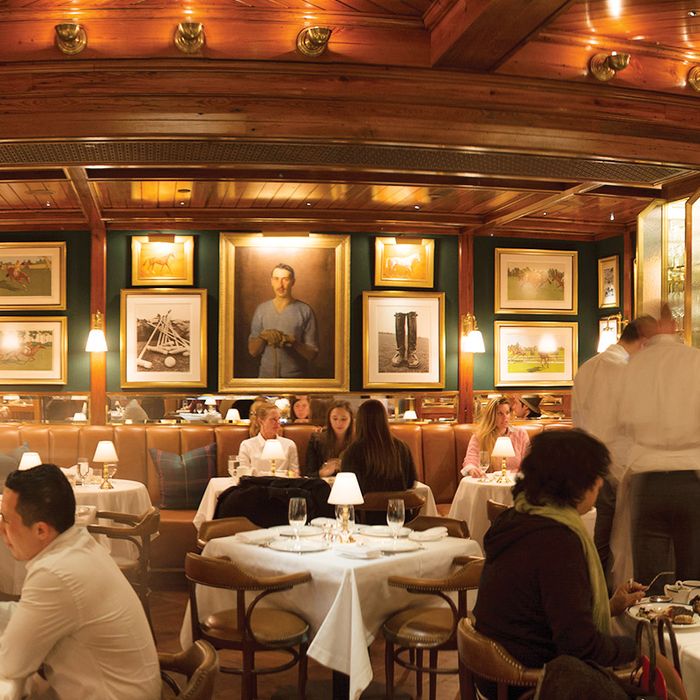 The Polo Bar.
Photo: Tirzah Brott/New York Magazine
Many weeks ago, when I first attempted to secure a table at Ralph Lauren's Polo Bar restaurant, which opened recently behind the flagship department store on Fifth Avenue, the friendly, grimly insistent voice on the other end of the line informed me that the next table wouldn't be available for several weeks. When I asked for a reservation for four on that distant date, I was told that the best she could offer was a table for two. When I asked for a table for two at 6:30, the voice said the best she could do was five o'clock. Which is how I found myself dining with one slightly befuddled guest at an hour when most culinarily conscious New Yorkers are planning their cocktail hour or finishing their afternoon tea. My guest looked around the mahogany-toned room, which was predictably deserted, except for some people taking selfies in a distant banquette. "What the hell is this place?" he whispered.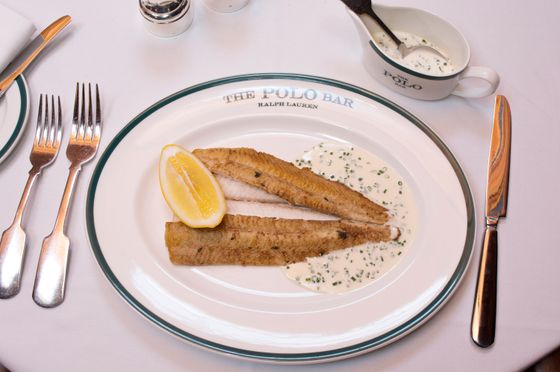 The idea of a Ralph Lauren restaurant is not as bizarre as it sounds, of course. There is a popular Ralph's in Paris (famous for its towering American cheeseburger) and an RL in Chicago, from which much of the look of the New York operation, and a good deal of the cooking expertise, derives. This latest Lauren dining outlet features a cozy, railroad-car-size barroom at street level, where the door is manned by a gauntlet of smiling gatekeepers waving reservation lists. Presumably as at the other restaurants, the wood-paneled walls of this little bar are encrusted with reproductions of jockey photos and horse portraits, like a Disney version of a London sporting club. While you cool your heels waiting for a table to clear downstairs, you can enjoy a selection of nicely crafted cocktails, many of them served in glasses as heavy as fishbowls and stuck with little swizzle sticks shaped like polo mallets.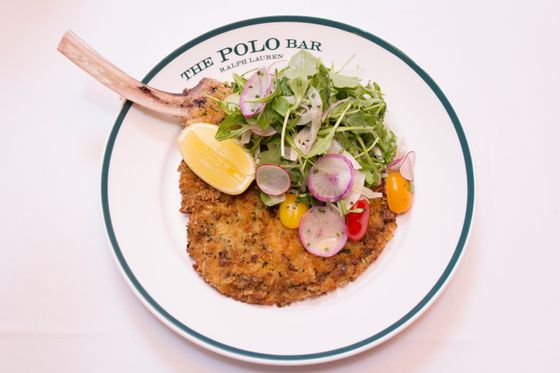 The subterranean dining room, which you reach via a lacquered-wood, Downton Abbey-esque staircase, is appointed in a similar, relentlessly themed way. Real-live polo mallets hang by the coat-check area, along with a tangle of random saddles and helmets. The comfortable leather banquettes that run around the edge of the beamy space are the color of butterscotch and plumped with the kind of ye-olde tartan pillows that you'll see scattered all around the showrooms upstairs. The smiling hostesses are kitted out in Ralph Lauren products; the walls are decorated with hundreds of other horse-centric photos and tchotchkes; and in case you forget where you are for a second or two, the sturdy, steakhouse-style plates on every table are emblazoned with THE POLO BAR in the familiar blocky company typeface, just above the great man's name.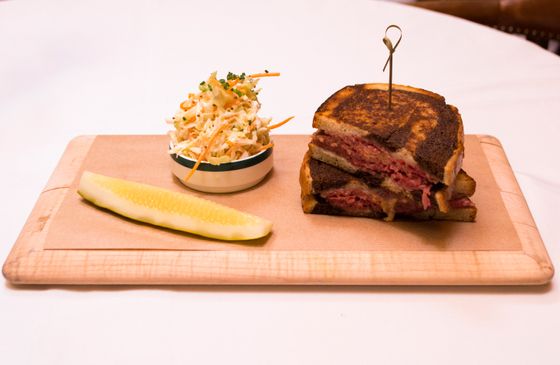 The professionally executed, middle-of-the-road menu at the Polo Bar strains for a similar ye-olde clubby sense of occasion, and my first thought, after guzzling a $21 old-fashioned, was that it could be an awful lot worse. Instead of the usual bread basket, waiters serve hot, chewy popovers crusted with Gruyère cheese, and while you wait for dinner to arrive, you can snack on a bar menu that includes a fine gourmet version of pigs in a blanket with a pot of whole-grain mustard on the side. The seasonally appropriate butternut-squash soup I tasted was thick and as sweet as carrot cake, but my guest had nothing unkind to say about the bountiful helping of kale Caesar salad we shared, or his appetizer bowl of suspiciously smooth "Ranch House" chili, which the kitchen smothers in melted Cheddar and buttresses with a fresh-baked biscuit laced with Pecorino cheese.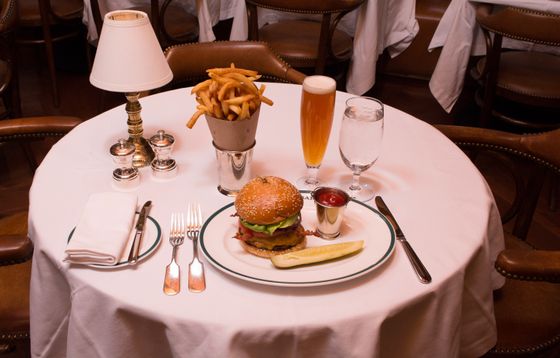 On another visit to the Polo Bar (with people who knew people and managed to procure a table at a more civilized time), I sampled other familiar specialties, like Dover sole (beautifully plated but a touch overcooked); a well-charred though less-than-mind-blowing bone-in $55 rib eye; and a tasty, diligently pounded veal chop spackled with bread crumbs and served with some shaved-fennel salad piled on top. The decorative Polo Bar burger (a tower of bacon, Cheddar, and potato bun) is serviceable as haute burgers go, although if you're in the mood for a dose of comfort after elbowing your way through the riotous boutiques along Fifth Avenue, I suggest the roast chicken (with generous pools of gravy and a buttery mound of mashed potatoes), or Ralph's corned-beef sandwich, which is a kind of glorified midtown Reuben served with a great twirl of fries in a silver cup.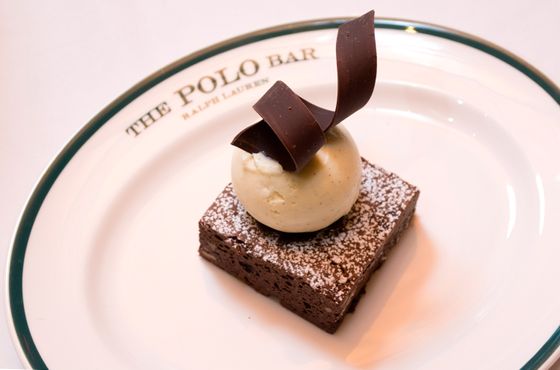 The Polo Bar is currently being bull-rushed by A-list names (Tom Hanks, Woody Allen, Allison Williams). I never glimpsed any megawatt celebrities during my meals there, although, according to my spies, Maria Bartiromo turned up not long after we'd called for our check one night, along with David Lauren, who ate his dinner at a discreet four-top by the wall, with his back to the room. There's a small but decently curated selection of mostly local craft beers at this Ralph Lauren restaurant, and one wine geek I dined with declared the prices on the predictably trophy-heavy list (there are 31 Champagnes available, and about half of the 40 California Cabernets cost over $300) to be "high but not unfair." The relentlessly comforting, mostly premade desserts include a variety of cake and pie wedges (apple, five-layer chocolate, bourbon-laced pecan), but the one to get is the brand-approved Polo Bar brownie, which contains a little bit of everything (nuts, vanilla, chocolate) all on one plate.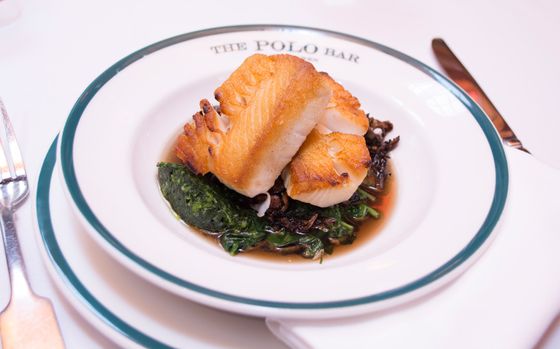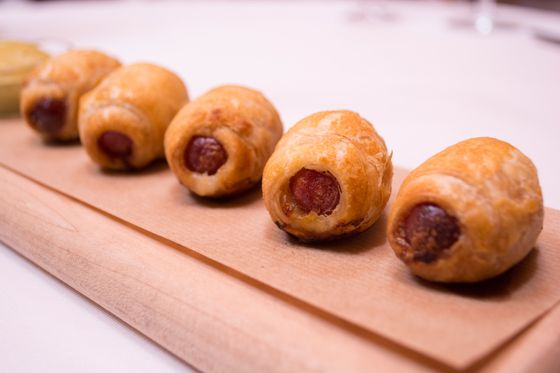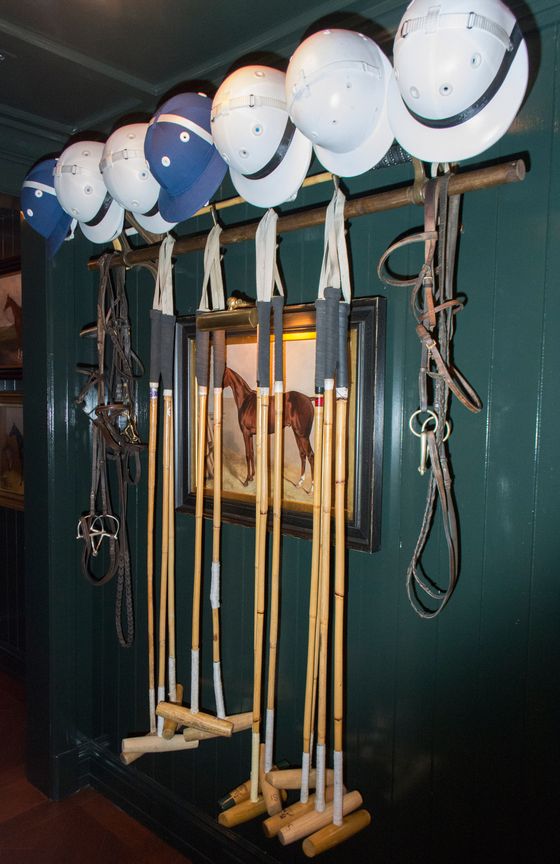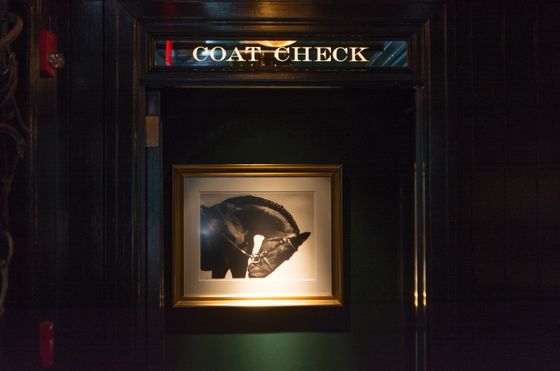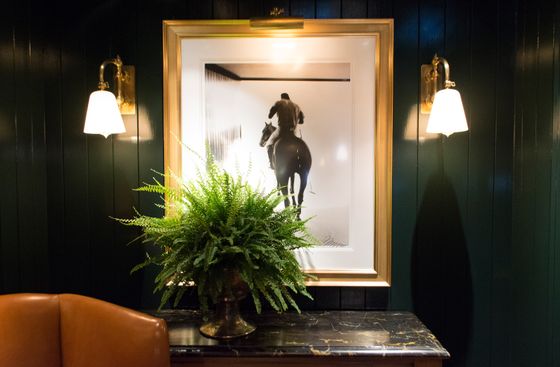 The Polo Bar

1 E. 55th St., nr. Fifth Ave.; 212-207-8562; ralphlauren.com

Hours: Opens 5 p.m. daily.

Prices: Appetizers, $12 to $24; entrees, $22 to $55.

Ideal Meal: Kale Caesar, roast chicken or Ralph's corned-beef sandwich with fries, Polo Bar brownie.

Note: To get a drink at the bar upstairs at this early stage, you'll also need a reservation.

Scratchpad: One star for the solid menu and another for the professional service and the buzzy sense of occasion. Minus a star for the exhausting, fraught hassle of getting in.
*This article appears in the April 6, 2015 issue of New York Magazine.