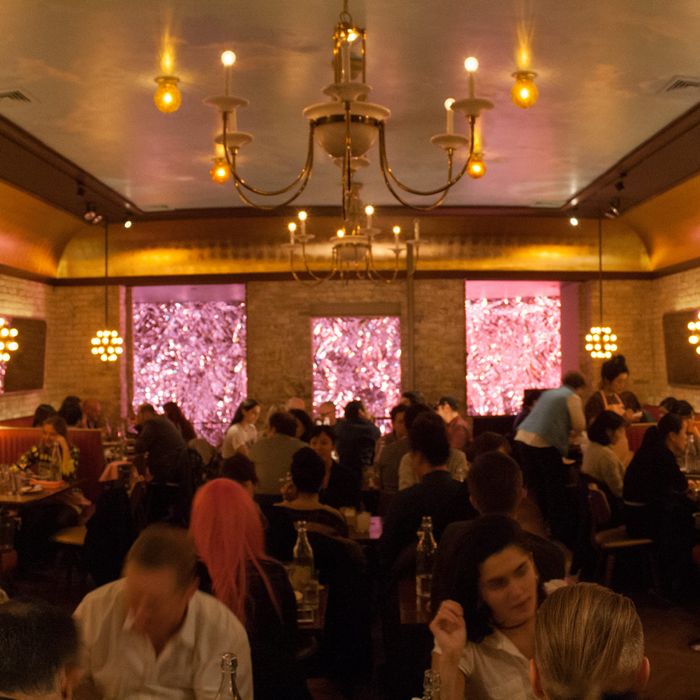 Mission Chinese Food
Photo: Tirzah Brott/New York Magazine
"This is like Chinese Thanksgiving," cracked one of my guests as we surveyed the bounty on our table, midway through one of my several raucous, pleasurable visits to the new, much-improved version of Danny Bowien's downtown establishment, Mission Chinese Food. My guest could have said "hipster Thanksgiving," too (the room was bursting not with Chinese diners from the neighborhood but with bewhiskered gents from Bushwick sporting topknots and spiffy corduroy vests). "Gonzo-chef Thanksgiving" was also a possibility (Pok Pok's Andy Ricker was in the crowd, along with numerous other tattooed kitchen luminaries), as was "high-roller Thanksgiving" (a caviar service is offered, and a lavish $150 prime rib) or "large-format Thanksgiving" (on our table were the remains of a whole fish, an entire duck, and a smoked pork jowl the size of a small rugby ball).
In Bowien's hands, this kind of happy chaos is not a bad thing, of course. The West Coast chef has his talents as a cook, but his real genius is for creating a grand sense of occasion, and at this larger, more sophisticated Mission outlet, you get the impression that he finally has a proper New York stage to call his own. Unlike the previous incarnation, a ramshackle venue on Orchard Street, this room, on the eastern fringes of Chinatown, has an air of permanence about it. The napkins are rose-pink linen, and there's a large round table fitted with a lazy Susan in the time-honored neighborhood style. Chandeliers hang from the ceiling, and comfortable, vermillion-colored banquettes line the walls. Instead of one tiny bar, there are now two lounge areas where you can sip strange cocktail creations (General Tso's Old Fashioned being among the strangest) while waiting for a table, instead of joining a riotous two-hour-long line on the sidewalk.
The most conspicuous difference between the old Mission Chinese and the new one, however, is that this time around, the lavishly eclectic, consistently inventive cooking is arguably worth a two-hour wait. I'm one of the few churls who publicly objected to the gut-busting, one-note quality of Bowien's endlessly hyped neo-Sichuan nose-to-tail recipes at the Orchard Street restaurant. So imagine my surprise when the first dish we tasted was a complimentary serving of pan-fried dumplings stuffed not with a fatty mash of pork products but with a delicate mix of tapioca and scrambled eggs. This was followed by a bowl of warm, faintly sweet Japanese noodles sprinkled with matcha-green-tea powder, and an artful rendition of cold shredded chicken plated with a beautifully balanced Southeast Asian salad of green papaya and banana blossoms instead of the usual glistening slick of spicy sesame paste.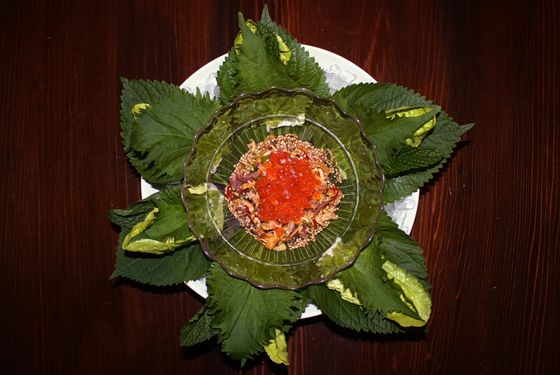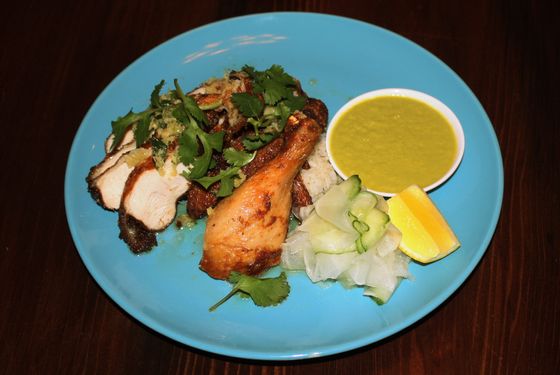 These new, gentler recipes are executed by Bowien's Filipino-American executive chef, Angela Dimayuga, who grew up in San Jose and has a knack for imbuing her cooking with that particular Filipino combination of lightness and good old-fashioned heft. Sichuan-peppercorn freaks can now complement the Bowien classics (thrice-cooked bacon, the lustrous heritage-pork mapo tofu) with delicate "lettuce cups" filled with beef tartare, trays of sea urchin and market sashimi from the new "Raw Bar" section of the menu, and an excellent fresh-baked-bread service fired on the wood-burning oven left over from the joint that used to occupy the space. The chewy char siu pork cheeks are cured in healthful beet juice, and the crisped, tender house Hainanese-style fried chicken is air-dried with koji (fermented rice) and served with a lemony sauce to cut the richness.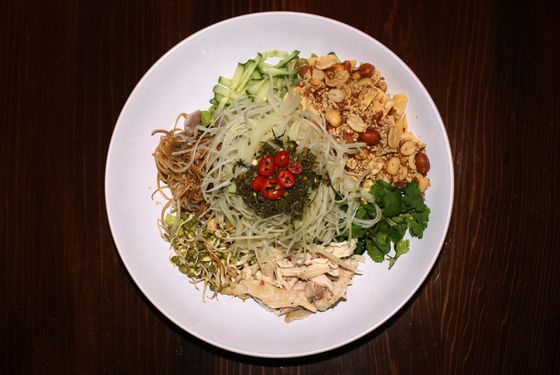 At the old Mission Chinese, my instinct was to call for the check after a bite or two of stir-fried pork belly, then curl up under the table for a digestive nap. This menu, though, is full of surprises, and the more corners you explore, the more your appetite tends to increase. Bowien's ingenious salt-cod fried rice is still the rice dish to get, but poke around the "Noodle Corner" section, and you will find concoctions made with the aforementioned green tea and even steamed oats. The "Chef's Specialties" section contains not one but two impressive head-on fish options (one "drunken style," the other whole fried on a tray with chunks of taro and turnip), which you can enjoy with five varieties of soup, including an updated version of that old Chinese classic winter melon, which the cooks flavor with black truffles and seal with an Instagram-friendly en croûte top.
Some of Bowien's theatrical experiments in off-the-wall family-style fusion cooking work better than others, of course. That rugby-ball-size smoked pork jowl was so veined with glistening deposits of fat that we pushed it away after a few bites, and the consensus among my guests was that the $100 clay-roasted "Beggar's Duck" worked ­better as a piece of performance art (it's cracked open at the table) than as a meal. So save your banquet dollars instead for the ­tender salt-and-pepper-encrusted lamb-rib tips (served on the bone with a pot of kefir crème fraîche), or Bowien's opulent smoked prime rib (the rib chop is garnished with king-crab legs and drizzled with clarified butter), or "Josefina's House Special Chicken," which is stuffed Filipino style with a savory crumble of chorizo-spiced pork sausage, green olives, and boiled eggs, then hoisted to the table with proper ceremony on a giant silver tray.

Mission Chinese Food
171 E. Broadway, nr. Canal St. 212-432-0300; mcfny.com
Hours: Tuesday through Sunday 5:30 p.m. to midnight.
Prices: Appetizers, $7 to $19; entrées, $13 to $50.
Ideal Meal: Green-papaya-and-banana-blossom salad, koji fried chicken, drunken fish and/or salt-and-pepper lamb-rib tips, stir-fried celery, and salt-cod fried rice.
Note: To secure a table, it pays to arrive at around 6 p.m., although the full menu is served in both bar areas.
Scratchpad: One star for the new room, one for the range and creativity of the menu, and one for execution and technique.
*This article appears in the March 23, 2015 issue of New York Magazine.