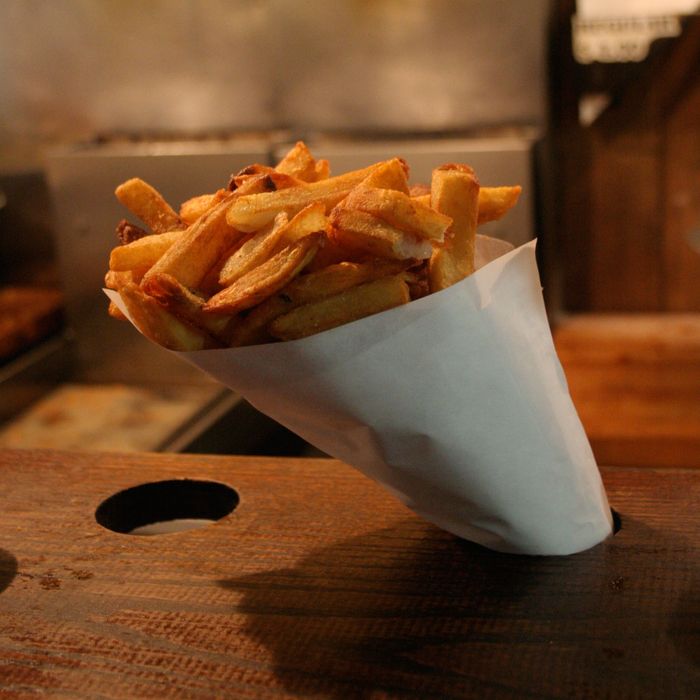 Don't you want these right now?
Photo: Shanna Ravindra
In the immediate wake of yesterday's terrible fire in the East Village, a lot of people quickly recognized that the affected buildings included the one housing Pommes Frites, the tiny, much-loved Belgian-fry spot that was, for many, one of the pillars of a long night out in the East Village. In the 18 hours or so since the explosion, social media has been flooded with an outpouring of support for the place:
Woke up craving fries. What a shame #pommesfrites burned down yesterday 🍟🙍🍟— Jake Kaplan (@drawing_jake) March 27, 2015

The East Village fire is so sad. Hope everyone will be okay. Sad news about Pommes Frites, loved that place.— Catherine (@shaketini) March 27, 2015

Talk about the end of an era. Yesterday's fire/explosion took out Pommes Frites, a french fry place I went to way back when I moved to NYC.— Edward Douglas (@EDouglasWW) March 27, 2015

I'm glad everyone in the East Village is safe but OH MY GOD WHAT AM I GOING TO DO WITHOUT POMMES FRITES— Paul Chamberlain (@paulywog) March 27, 2015

It feels undeniably trivial to focus on a French-fry shop when the fire ruined so many people's lives, with at least two people still unaccounted for. (Sushi Park is gone because of the tragedy, too.) But the significance of Pommes Frites is noteworthy: The place wasn't fantastic, exactly (although there was a stretch of time in the early aughts when it was the only spot to get decent poutine in New York). But the staff was nice enough, and the fries were always warm and crispy, which is really all you need. Mostly, it was just one of those places where everybody's been at some point, usually late, almost certainly drunk.
New York is full of so-christened institutions. Yet the ones that come to mind when you invoke that word are spots like Peter Luger, or Katz's, or maybe something like Lombardi's. The thing about those places is that no matter how good they may be, they're also full of out-of-towners looking to have a Real New York Experience. Pommes Frites belonged to that second tier of NYC institutions, the one that's full of places that you only go if you actually live in the city. And that's why it was important. It wasn't excellent or unique enough to warrant a special trip, but if you were nearby, and hungry, and you just needed something decent and greasy to eat, it was more or less perfect.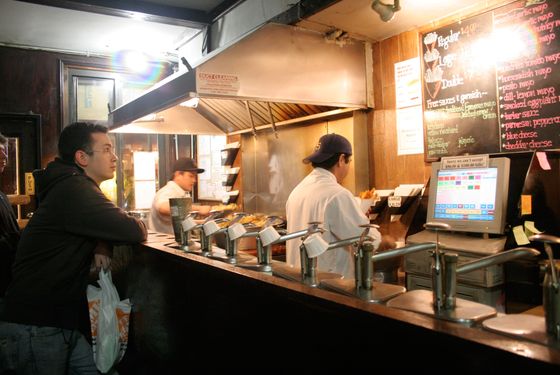 It was among the East Village's great night-enders, a communal place where everyone went for the exact same thing. You'd stand in line, pick your sauces (traditional frites sauce and curry ketchup, always), pay your six or seven bucks, then split the massive pile of golden potato chunks out on the sidewalk with your friends before everyone either stumbled home or mustered up the endurance required for a 3 a.m. subway ride or a cab back to wherever they lived.
With any luck, it will bounce back. The team posted this message on the shop's Facebook page late yesterday:

We want to thank everyone who has shared their concern for our well-being. Our staff and our customers are safe. However, our main concern is for those who were injured. This is a terrible tragedy, and our hearts go out to them and their families.

Due to the severe damage to our building, we are closed for the foreseeable future. We hope to re-open someday soon and will keep you updated when we have news to share.
Really, it's been years since the last time I was there, but it's still depressing that it's gone, and I'm hoping along with everyone else that it comes back as quickly as possible. The place wasn't a victim of rising rents or a dispute among owners or any of the more common reasons that cause venerated places to go out of business. It's nevertheless gone for the time being, and in a very small way, it's another a reminder that even cherished, foundational spots can disappear without warning.