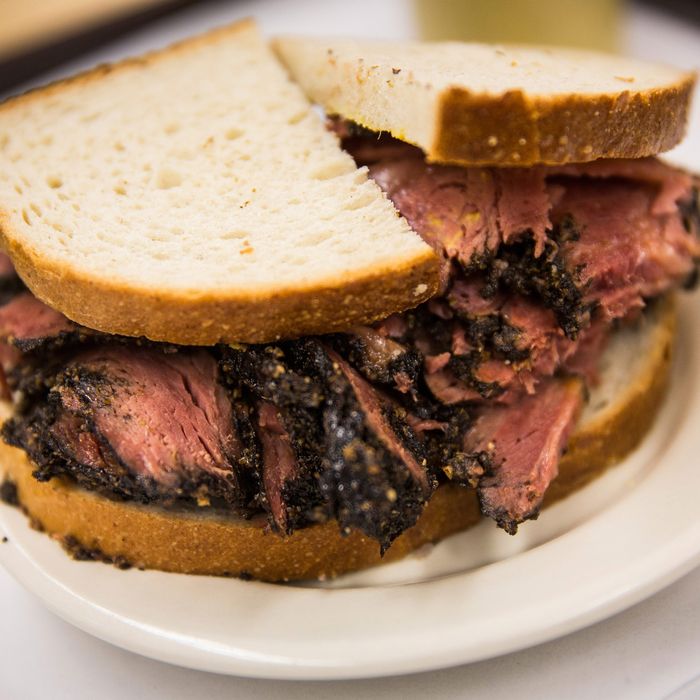 Now a luxury product.
Photo: Andrew Burton/Getty Images
Just as Grub started feeling all warm and fuzzy about New York delicatessens, news hits that pastrami is in a crisis. Skyrocketing beef prices have been unkind to brisket, and now it seems like pastrami is suffering from a similar fate. Pastrami prices climbed a steep 47 percent last year and are up 14 percent so far in 2015.
After spotting a deli sign at Yankee Tavern apologizing for expensive pastrami, the Times spoke to a few deli owners to see how they're managing. That future is equally dour:
"Our suppliers are killing us, so we raised prices about eight months ago," said Art Rabin, manager of Liebman's Kosher Delicatessen on West 235th Street. "Every few months, we get a letter that the price is going up."
Restaurants in the outer boroughs are struggling because there's a ceiling to what a sensible Bronx resident will shell out for a sandwich — and it's well below retail at Katz's or Carnegie Deli. The $3 extra, a one third markup, isn't sitting well with customers at Yankee Tavern, where owner Joe Bastone says he came very close to taking pastrami off the 90-year-old deli's menu.
[NYT]