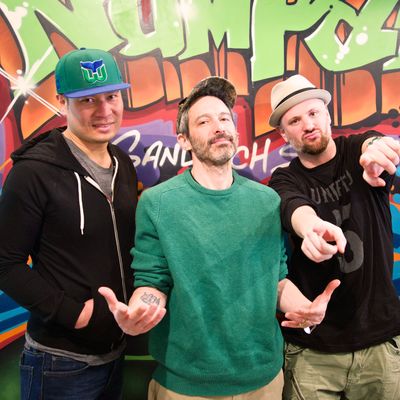 Make some noise.
Photo: Katie Burton
Ben Daitz and Ratha Chaupoly have idolized Adam "Ad-Rock" Horovitz since they were kids, so their latest collaboration is somewhat of a dream come true. It's part of Num Pang's ongoing "Chefs Give Back" series, where Daitz and Chaupoly work with chefs (and, apparently, anyone who's awesome) to create sandwiches and donate the proceeds to a charity.
The sandwich, available from March 17 to April 15 at all Num Pang locations, will feature smoked meat provided by Mile End Deli, cucumbers, cilantro, pickled carrots with toasted caraway, and a chili Russian dressing — all on Num Pang's signature toasted semolina bread. Plus: It'll be served with a housemade spicy garlic-dill-pickle spear, along with a bag of Wise potato chips and Virgil's cream soda (Ad-Rock's favorite sandwich accompaniments).
It costs $16 for the entire lunchbox (sandwich, pickle, chips, soda), which is a bit steep for lunch. But it's well worth it considering all the proceeds go to Ad-Rock's charity of choice, the Brooklyn Animal Rescue Coalition, and Num Pang's, the Badass Brooklyn Animal Rescue.