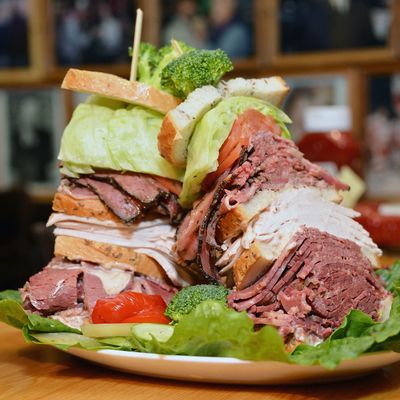 What qualifies as a light snack at the Carnegie deli.
Photo: Slaven Vlasic/Getty Images
Grub Street never needs a reason to celebrate our city's esteemed roster of delicatessens, but since this week marks the New York release of the new documentary Deli Man, we're going all in on the subject today.
You know them by their come-hither hot-dog-and-knish window displays, their celebrity photos, and most of all, their unmistakable, olfactorily assaulting aroma. The Jewish delicatessen is an invention and a totem of this town, and every self-respecting New Yorker of a certain age has his or her favorite, where the pastrami is ostensibly juicier, the franks snappier, and the matzo balls fluffier. (Never mind that most of them nowadays get their pre-cured meats, bread, and mustard from the same few suppliers, and that the menus are virtually interchangeable). In the world of delis perhaps more than anywhere else, nostalgia is all. But for those who equate the smoky, salty, overstuffed, full-sour, schmaltz-seasoned flavor of the Ashkenazi delicatessen with the identity not only of the New York Jew but of the New Yorker, period, the genre is consecrated ground, worthy of preservation. Here are our favorites.
Liebman's Delicatessen
Due to its location in the Bronx hamlet of Riverdale, Liebman's doesn't get the tourist mobs of Katz's and Carnegie. Which isn't to say it doesn't have its regulars, like the dapper dude who stopped in for a quick lunch one frigid afternoon. His order was delivered virtually as soon as he slid into his vinyl booth: a glass of kosher Merlot and an enormous bowl of matzo-ball soup, with a by-request bottle of Sriracha on the side. While we've yet to try that particular pairing, we can heartily recommend the slightly chewy but flavorful Romanian skirt steak and the excellent stuffed cabbage, served in a sweet-and-sour gravy dotted with yellow raisins. The house combo (Liebman's Favorite) is an enlightening Deli 101 for the budding fresser, an open-faced sandwich of hot pastrami and corned beef with well-done deli fries (the snubbed shape is specific to the genre, as is the greasy quasi-crispness) and a wedge of stuffed derma, which is to Jews as haggis is to Scots and scrapple is to the Pennsylvania Dutch. In other words, just eat, don't ask questions.
2nd Ave Deli
For a while, things looked dire for East Village institution 2nd Ave Deli, beginning with founder Abe Lebewohl's murder and the joint's subsequent closing and relocation. But the deli community rallied when the place resurfaced in Kips Bay, spiffier than ever, with all the familiar front-of-house faces and back-of-house recipes. Many fans never get past the ever-popular pastrami and even better corned beef (we like them on twin rolls). But the place excels with Jewish soul food that tastes like an actual bubbe (or a fleet of them) is toiling away in the kitchen. The mushroom-barley soup is rich and woodsy. The long-cooked Sabbath stew cholent, bursting with meat and beans, eats like a Yiddish cassoulet. And the chicken in the pot makes you wonder if this is what the government should be mandating, never mind vaccines. If you're feeling invulnerable, toss some gribenes on your chopped liver. And if you don't give your waiter tsuris, he might surprise you with an egg-cream shot to wash it all down — minus the milk, of course. That wouldn't be kosher.
Pastrami Queen
Pastrami Queen, like the Jewish people themselves, has clung to its traditions while being uprooted time and again. Born Pastrami King in Williamsburg, Brooklyn, the deli eventually relocated to Kew Gardens, Queens, before changing gender and settling into its current cramped quarters on the Upper East Side — little more than a chrome display case, a handful of tables, and a TV on the wall to keep the solitary fresser company. Big flavors emerge from the tiny kitchen: jumbo knishes; fries showered with garlic chips; a bright, crunchy, and unusually appealing "health" salad, sweet and vinegary at once. But who are you kidding? You're not here for the salad. You're here for the pastrami. Insist on having it hand-cut, and the resultant slices are juicy, crumbly, and fiendishly good, with a satisfying balance of smoke and spice. The sandwich is further distinguished by the seeded Orwasher's rye, which is several cuts above today's deli standard.
Carnegie Deli
One of the most cherished deli traditions has always been to show great contempt for the customer. Now our pastrami palaces have become disorientingly friendly. (Perhaps it's a misguided response to the delicatessen having been placed on the endangered species list.) One exception: the Carnegie. The best way to describe the man who shoved plates of food at us the other night and made sure we understood that cash tips were preferred is a cross between an unfunny and unintelligible Triumph the Insult Comic Dog and Attila the Hun. As for what to eat, the matzo-ball soup is terrific. The towering Woody Allen, an outsize corned-beef-and-pastrami combo, is a little bland but satisfying, exemplifying the Carnegie's quantity-over-quality M.O. (This is the sandwich the late Bob Simon famously requested after being held hostage in Iraq for 40 days.) Triumph the Insult Waiter will recommend the cheesecake for dessert, further proof that his jokes are bad. But the food here is mostly beside the point. The Carnegie is important because it's the last of the great tourist-hazing Broadway showbiz delis. Where else, after all, can you go these days to be treated like dirt by a waiter in a bow tie and tuxedo vest?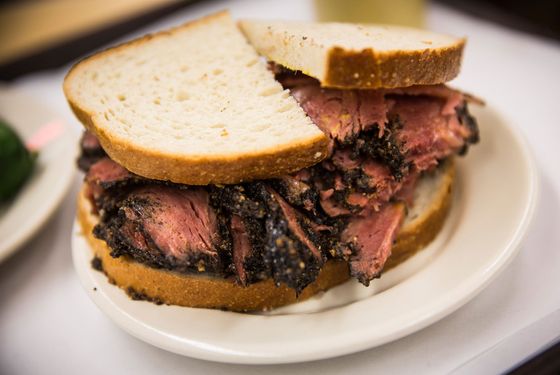 Katz's Delicatessen
Just stepping into what Milton Glaser and Jerome Snyder, New York's original Underground Gourmets, described some 50 years ago as a living, breathing Brueghel painting is still a great, odoriferous, slightly harrowing thrill. An ecstasy of chaos and clinking plates. No serious student of deli has not been to Katz's. Nothing else like it in the world. Yes, the pastrami and corned beef are hand-sliced and usually terrific, and that's why you go. But truth be told, it's the snappy hot dogs (natural-casing all-beef Sabrett's) we can't resist. Chalk it up to expert technique and what must be the flavor-enhancing mojo of a well-seasoned, decades-old griddle.
Mill Basin Kosher Deli
Will perfunctoriness be the ruin of the deli? Is a little quirky inventiveness, a dash of irreverence, what our delicatessens need? Then why don't you hear more about this big, comfortable, 41-year-old neighborhood restaurant and its PLT — a purist's nightmare of pastrami cooked to a baconlike crisp on the griddle, then dressed with shredded iceberg, tomato, and mayo on toasted rye? Fantastic. Or its latke chips — essentially latkes that have been cut thin like sliced tomatoes, then refried to bump up the ratio of crisp to soft? There's a delicious pastrami egg-roll, too, that may or may not have preceded the one Joe Ng and Ed Schoenfeld introduced at FoodParc's RedFarm stand a while back. Ultimately, though, you judge a delicatessen by its core cured meats, and Mill Basin acquits itself well on all accounts. Particularly good are its corned beef and hot garlic wurst.
Mile End
By now everyone knows that Mile End is New York's most forward-thinking delicatessen: the seasonal approach, the emphasis on sourcing high-quality ingredients, the Stumptown coffee. What's still undersung is how much of the menu is made from scratch, from the full-sour pickles to the beef salami. And Noah Bernamoff and Rae Cohen are the rare operators who cure, smoke, steam, and hand-slice their own pastrami (okay, Montreal-style smoked meat) — a costly, labor-intensive task that most delis have all but given up on, opting to outsource from Hebrew National, say, or Empire National. The standout dishes are still the smoked meat, the Ruth Wilensky salami sandwich, and the pastrami burger, but what's also great about Mile End is how they keep the menu fresh. A recent visit, for instance, turned up some tasty whitefish croquettes and a surprisingly good chicken shawarma platter.
Jay & Lloyd's Kosher Delicatessen
John Besh dropped by Jay & Lloyd's last year to teach the owners how to spruce up their brisket on the restaurant reality show Hungry Investors. No offense, Mr. Besh, but we're sticking with the pastrami. As at virtually every kosher deli, it's cured and smoked off-premises, at a location no tight-lipped deli man will ever reveal, but the result has a nice, smoky kick and suitably succulent texture. The place caters to a diverse, working-class Sheepshead Bay crowd with no shortage of shtick in the decor or on the menu. The Dippedy Doo Da! is a roast beef au jus that might have been engineered to compete with Brennan & Carr's down the road. The soft, plump zucchini pancakes are a house specialty. And if it doesn't strike you as sacrilege against all that is holy, you might consider the Dave's Deli Corner, wherein char-grilled pastrami and pineapple are layered on garlic bread.