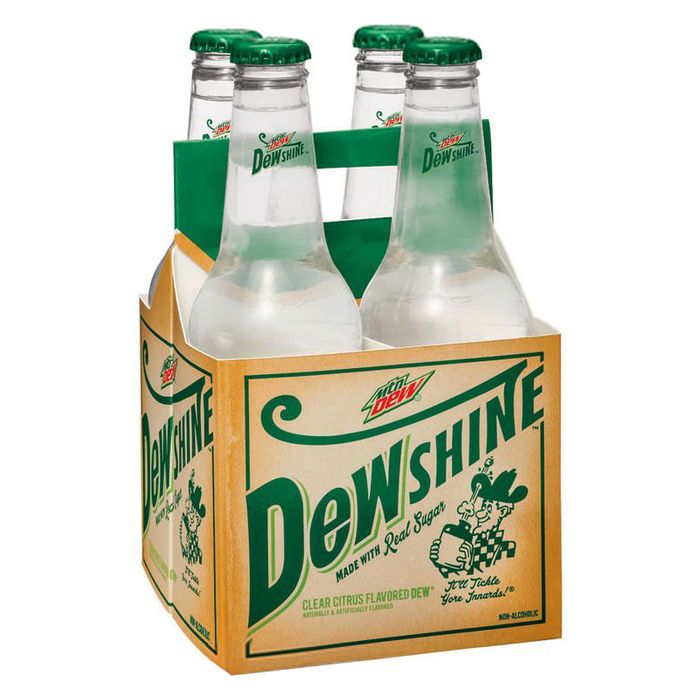 Clearly all natural.
Photo: Courtesy of Mountain Dew
Mountain Dew is sort of like the ESPN X Games of soda — the caffeinated, bright-yellow pop is marketed as "extreme," but in the safest, most corporate way possible. This image, however, is at odds with Mountain Dew's real origins as a mixer for liquor that was named after a term for moonshine (original bottles even featured a hillbilly on the label). And that's the part of Dew's history that PepsiCo wants to highlight with a new soda that it's not-so-subtly calling DEWShine.
On first glance, DEWShine, which hits shelves on March 23, is the almost-artisanal-seeming version of original Mountain Dew. It's clear, sweetened with sugar instead of corn syrup, and comes in retro-looking longneck bottles.
And there's where DEWShine has gotten into a bit of trouble: Critics say the packaging looks too much like beer bottles and that this is a bald appeal to associate the Dew with things like craft beer and, of course, moonshine. As the head of one advocacy group puts it, "The line between alcoholic and non-alcoholic beverages is intentionally being blurred by producers of both."
A rep for PepsiCo, of course, says this just isn't true and that DEWShine is merely "inspired by the brand's roots in the backwoods of Tennessee." It's unclear whether the spokesperson was literally winking when they issued that statement, since it is 100 percent clear that this stuff is designed to be mixed with booze (preferably that you distilled yourself with an illicit DIY setup in your backyard) — a point made abundantly obvious in these ads decorated with moonshine jugs and the slogan "available legally for the first time."
[USAT]