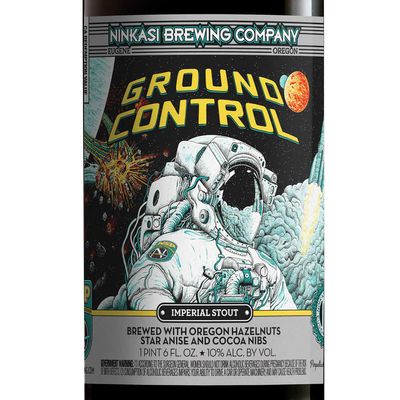 Somewhere out there, Major Tom raises a glass.
Photo: Ninkasi Brewing Company
For almost two years, the team at Oregon's Ninkasi Brewing Company has been trying to make a giant leap for beerkind with the Ninkasi Space Program: Send yeast up into space and use it to brew a beer that they will be able to say is "literally out of this world." On April 13, those months of having engineers fill their brewer brains with "jet propulsion" this and "payload" that finally pay off with the release of the very limited-edition Ground Control, an imperial stout made cocoa nibs, hazelnuts, three hop varieties (Apollo, Bravo, and Comet), and, most crucial, yeast that spent time 77 miles above Earth.
Like everybody else privately up in space right now, the Ninkasi Space Program had some setbacks. The payload of Mission One, which launched last July, landed nine miles from the intended site, so the yeast sat in the sweltering Nevada heat for 27 days and died. However, Mission Two, launched in October, was a success: Six vials of yeast stayed weightless for four minutes, returned safely to Earth, and have now flavored beer. As you might guess, the only real difference between space yeast and normal yeast is that these microorganisms went into orbit and survived, so the move is basically one massively expensive marketing gimmick, but still: Space beer!
[Ninkasi Space Program via NYDN]