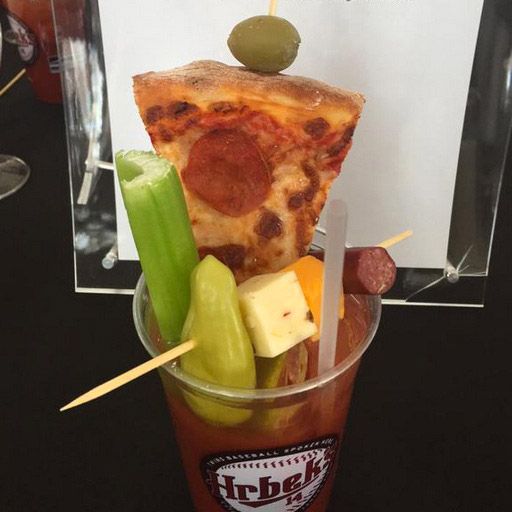 One and done.
Photo: Kent Hrbek
Minnesota Twins fans will finally get an outrageously garnished Bloody Mary to call their very own this season. What you see in the photo is the $19 "College Daze Bloody Mary."
As expected, it's festooned with a concession-heavy medley of cheese cubes, a beef stick, a banana pepper, a whole bunch of other junk, and the pièce de résistance: an entire slice of pepperoni pizza, served cold. This beast also has a straw, not that it will do you much good. Here's the official description:
This Bloody Mary will bring back the memories (or not)! This cool Bloody Mary gets a cold slice of Pepperoni Pizza which is just what you need with a Bloody Mary! If that wasn't enough you also get all the other fixings! Beef Stick, Pepper Jack and Cheddar Cheese Cubes, Pepperoncini, Olive, Celery, & a Pickle Spear. Served with a Bud Light Beer Back.
Grub Street has made this point before, but it apparently bears repeating: Stop messing around with this once-proud drink. After all, when treated with the proper respect, a Bloody Mary can be a truly beautiful thing indeed.