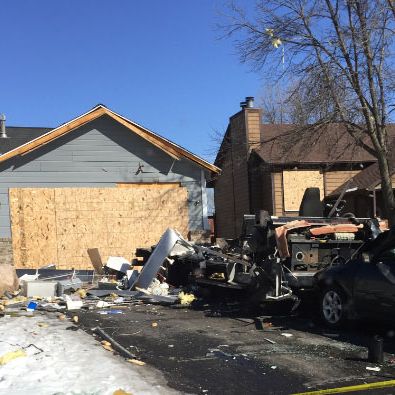 R.I.P.
Photo: Rocki Forseth/GoFundMe
Neighbors' hearts were pounding this weekend after Marty Richie's immensely popular Twin Cities food truck Motley Crews Heavy Metal Grill detonated at 11 p.m. without warning in his driveway. Witnesses say the explosion sounded "like a bomb," and media report at least 20 homes were damaged during the blast.
Police suspect it was triggered by a faulty propane tank. Fortunately, there were only a few minor injuries, yet the way the Star Tribune describes the block sounds right out of Mad Max:
The explosion shook nearby homes, shattered windows, snapped 2-by-4s in garages, blew open doors and rattled dishes and other items from shelves and off walls. Residents startled from their sleep ran blinking outside to see their neighbor's food truck nearly obliterated.
The steering wheel, driver's seat, and chassis are the only parts that weren't blasted someplace else — one door was found hanging two dozen feet up in the bough of a nearby tree. Police say more than 80 phone calls came in, some from people six miles away. One neighbor said a house exploded many years ago because of a gas leak, but that sound "didn't compare" to this one.
Richie's home obviously fared the worst — it's unlivable after the blast. His teenage daughter was inside at the time, but, again, fortunately wasn't hurt. (Friends have set up a GoFundMe to help the family out.) He seems in pretty good spirits, all things considered. He wrote on Facebook that the "Mötley Crüe Food Truck Explosion Rocks Neighborhood" puns are making for a pretty in memoriam, and he'll now focus his attention on Motley Crews' first brick-and-mortar location, just announced a few weeks ago and due to open this summer.
[Star Tribune, KMSP]