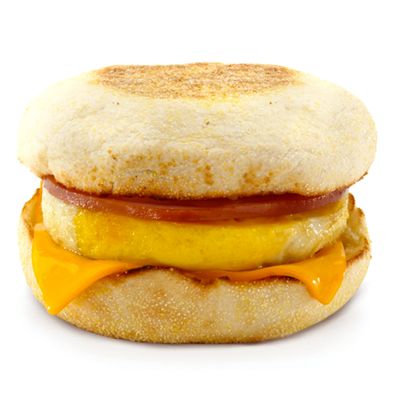 McDonald's has an idea to help rejuvenate its brand that maybe won't be a total dud: breakfast for dinner. The AP reports that for the first time ever, the chain will toy with extending breakfast beyond the customary 10:30 a.m. cutoff that has for years been the bane of late risers everywhere.
The testing begins next month, when customers at certain San Diego locations will be able to order hash browns and "some" breakfast sandwiches. The move is part of an effort to please people who, according to the company, want to eat breakfast foods "outside the typical morning hours that they are served." (So, everyone?)
The question really is, what took so long? The chain has maintained for years that its grills are just too small to accommodate breakfast sandwiches during burger hours, but apparently desperate times call for desperate measures, so execs are trying to figure out a way to give customers what they've been asking for for years. Who knows? Maybe one day it will be possible to order a dinnertime McMuffin with kale and cage-free eggs, if that's your thing.
[AP]