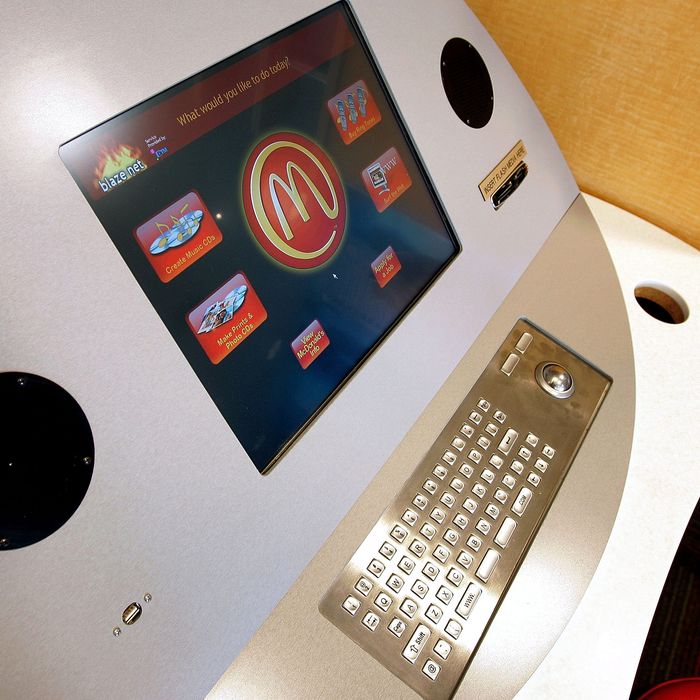 Surprisingly, this is a real console and not a prop from 2001.
Photo: Tim Boyle/Getty Images
McDonald's has a novel idea for fixing its troubled business: asking the tech-y attendees at this year's SXSW how they'd run the $28 billion company if they were, say, brand-spanking-new CEO Steve Easterbrook. The chain will sponsor a "McDonald's Lounge" with plenty of free McCafé coffee. As Quartz reports, McDonald's will hold a big event series March 13, where budding entrepreneurs can pitch "innovation ideas."
There will be three sessions that really run the gamut: For "Reinventing the Restaurant Experience," presenters are encouraged to think "about multiple screens, proximity technology, personalization, and even smart packaging." Ideas presented during "Content Creation" should help McDonald's "stay relevant." And finally, "Transportation and Delivery" wants SXSW's best idea men and women to just go crazy big: "Imagine a world where drones could deliver you food while you're driving down the highway." McDonald's promises the winner a trip to its headquarters in Oak Brook, Illinois, where the idea goes before company executives. It's hard to say whether attendees will have actual ideas, or even want to pitch them, but Grub doesn't really see the need for three separate pitch sessions when the first step to reinventing the brand seems really simple: Make the food not horrible.
[Quartz]