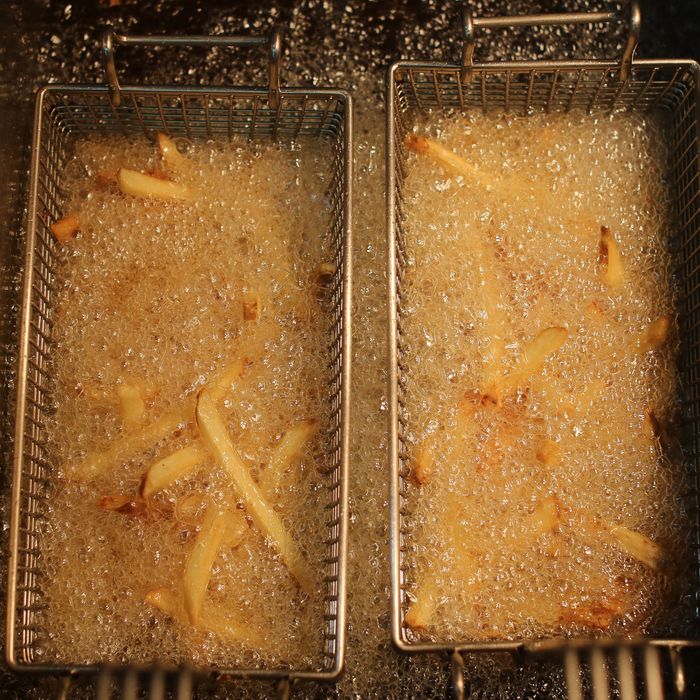 This stuff can burn you, obviously.
Photo: Andrey Rudakov/Bloomberg via Getty Images
More bad news for McDonald's: Today, workers across the country filed 28 complaints with federal and state agencies that describe horrible burns and other workplace injuries reportedly caused by hazardous work conditions.
Employees from 19 cities blame understaffing, pressure to work too quickly, little to no protective gear, and inadequate training. One Chicago worker says she slipped on a greasy floor and landed forearm-first on the grill. Her manager allegedly told her to "put mustard on it," which, it turns out, didn't do anything. She says the burn caused such extensive nerve damage to her wrist that she was on medical leave for six months. A different manager allegedly tried another condiment, telling a burned employee to "put mayo on it, and he'd be good." (Coincidentally, several complaints say stores have no first-aid kits on hand.)
Other grill cooks, meanwhile, say they get no protective equipment. "As a result, boiling hot grease pops up from the grill and burns my hand," one explains. Some workers claim the way they dispose of hot grease is by dumping it into into plastic bags in boxes of ice. And the list of injuries goes on — workers in Philly say they've been burned by a cookie machine, a hot pan, grease they must dispose of manually, and Teflon bits that come off old grills and stick to their arms.
The complaints were filed with the support of Fight for $15, the same campaign that's already on the corporate office's bad side for trying to hold it accountable for franchisees' possible wage theft. Likewise here, the majority of workers reportedly work at franchises, but the suit names the corporate office too. A McDonald's rep said the chain will review the allegations — but made sure to add that given the situation, it's "important to note that these complaints are part of a larger strategy orchestrated by activists targeting our brand and designed to generate media coverage."