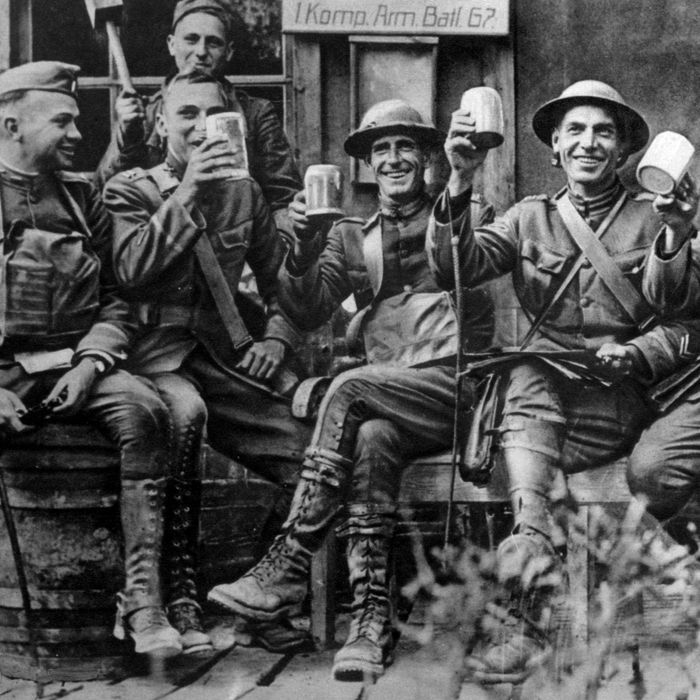 Hear, hear, give this senator a medal of valor.
Photo: U.S. Signal Corps/Everett Historica/Shutterstock
Maryland state senator Ron Young has introduced a new bill that would make it legal in Maryland for service members as young as 18 (with valid military I.D.s, of course) to go to a restaurant and order beer or wine. The thinking behind sliding the drinking age down from the now-legal 21: "If someone can risk their life, why shouldn't they be able to have a glass of beer or wine with dinner?" Young asked Friday when he proposed the bill, which would still make liquor off limits and wouldn't allow underage service members to buy beer or wine at stores.
Not surprisingly, groups like the Maryland Department of Transportation, the Maryland State Highway Administration, the Maryland Nonprofit Alcohol Program, and the Washington Regional Alcohol Program are adamantly opposed, along with various bar owners. The state of Maryland would also lose $32 million in highway funding for not complying with federal drinking laws. Also, even veterans aren't necessarily 100 percent onboard with the plan: As one Air Force veteran who now manages an Annapolis bar told reporters, "If you can carry a weapon and defend your country you should be able to drink a beer … But do it on a military base or post. There's more control on a military post. The military can handle it."
[UPI, CBS Baltimore]