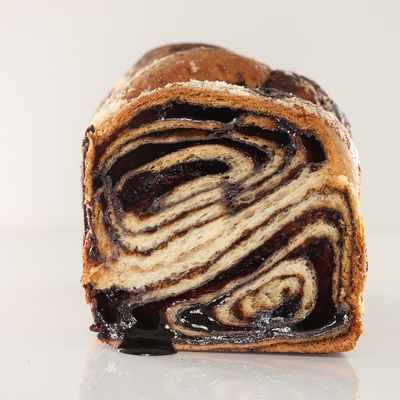 Step one: Start with the babka.
Photo: Melissa Hom
Grub Street never needs a reason to celebrate our city's esteemed roster of delicatessens, but since this week marks the New York release of the new documentary Deli Man, we're going all in on the subject today.
Yes, part of the appeal of the classic delicatessen experience involves waiting patiently for hand-cut meat, maybe making sure you don't lose your ticket, at least taking a cursory glance at the celebrity photos on the wall, and picking at the pickle plate while you eat. But if you don't live close enough to a truly great deli, or you just don't feel like schlepping over to one, take comfort in the knowledge that some of the country's best deli classics can be mail-ordered right to your home. Here are 15 of Grub Street's favorites.
What: Corned-Beef Kit
Where: Manny's Coffee Shop in Chicago
Price: $82.99
This fourth-generation-owned Chicago institution — open since 1942 — sell its signature thinly sliced, precooked corned beef. This bundle includes two pounds of meat, a loaf of rye bread, eight potato pancakes, and Manny's special horseradish mustard.
What: Sour-Cream Coffee Cake
Where: Zingerman's in Ann Arbor, Michigan
Price: $40
This beloved delicatessen (and the same Zingerman's as the massive, popular mail-order group) says that this coffee cake, baked with Indonesian cinnamon and toasted walnuts in a traditional Bundt pan, is — perhaps surprisingly — its most popular gift.
What: Matzo Ball Soup
Where: Ben's Best in Rego Park
Price: $55
The old-school deli in Queens makes a mean soup, which ships as four huge matzo balls, two quarts of chicken soup, and "loads of vegetables."
What: Pastrami-Sandwich Kit
Where: Langer's Deli in Los Angeles
Price: $109
Many people swear this L.A. institution is better than any deli in New York City. It's a debate that will never really be settled, but know that this package, which feeds four to six, includes two pounds of hand-carved pastrami, and one loaf of cornmeal-crusted, double-baked rye bread, making it easy for New Yorkers to conduct a side-by-side taste-off.
What: Pastrami, Mustard
Where: Katz's Deli in New York
Price: $14 per half-pound, $4.50
What you should really be sending to your boy in the army: Iconic melt-in-your-mouth pastrami, and the quintessential deli mustard, of course.
What: Jewish Rye Bread
Where: Eli's in New York
Price: $14
Here are two one-pound loaves of slightly sour, caraway-seed-packed, crusty bread.
What: Bagels
Where: Black Seed Bagels in New York
Price: $36
Why not fly in new-age bagels for a family feast? Black Seed's are smaller and denser than the standard, and as far as Grub's concerned, that's a good thing.
What: Babka
Where: Green's Home Style Bakery
Price: $8.49 per loaf
Order one loaf of chocolate and one cinnamon, both direct from the bakery that supplies most of Manhattan's best babka purveyors. Whatever you don't eat will make for excellent leftovers — to use for French toast, of course.
What: Plain Cheesecake
Where: Carnegie Deli in New York
Price: $33
It's not even close to the best cheesecake available, but that's not really the point. It's hard to top a classic New York-style deli cheesecake, especially one from an institution like Carnegie.
What: Montreal-Smoked Meat
Where: Mile End Deli in New York
Price: $200
It's not cheap, but you'll get five entire pounds of beef — and you can choose from either the lean or the full cut of brisket. (Go for the full.)
What: Sturgeon
Where: Barney Greengrass in New York
Price: $62 per pound
The store calls its sturgeon the "filet mignon of fish," which it imports from northern Canada, then proceeds to skin, bone, smoke, and hand-slice before shipping off to you.
What: Belly Lox
Where: Russ & Daughters in New York
Price: $36 per pound
Russ & Daughters has mastered the online-ordering business, so you can rest assured that items like super-salty belly lox will arrive fresh as ever. It's up to you to find the all the water you'll need to wash it down, though.

What: Gouda Caboodle
Where: Katzinger's in Ohio
Price: $70
No Jewish-deli spread is complete without some quality cheese. This midwestern favorite groups together four of its most popular goudas — definitely what you'll want.

What: Cheese Blintzes
Where: Kenny & Ziggy's Deli in Houston
Price: $27 for a half-dozen
Ziggy Gruber opened this New York-style deli in Houston in 1992, and it's slowly earned everyone's respect. The cheese blintzes, filled with sweet cheese, are shipped un-cooked so that you can easily pan-fry them at home.
What: Salami
Where: 2nd Ave Deli in New York
Price: $59.99
While the restaurant develops its online-ordering system, it's taking orders for select items over the phone (212-689-9000). You can choose between hard and soft salami — both come with the deli's own mustard.