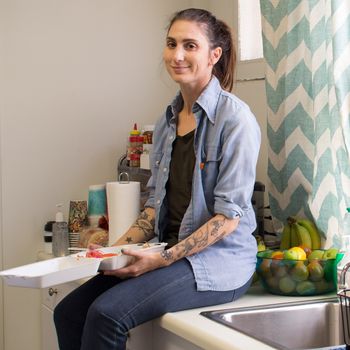 "I'd marry a Gummy Bear."
Photo: Rodolfo Carlos
Lesley Arfin moved from New York to Los Angeles to work as a television writer (her credits include shows like Girls, Brooklyn Nine-Nine, and Awkward), but she's still adjusting to life without a bodega on her corner. "It's much harder to eat in L.A. than it is in New York," she says. Adding to that, Arfin — who's working on a new show for Netflix with Judd Apatow — isn't one to plan meals ahead of time, so she finds herself spontaneously picking up Cuban sandwiches, packing Uncrustables in her bag, and eating Fruity Pebbles for dinner. Read all about it:
Thursday, March 20
To start: I'm not a picky eater, but I'm no foodie. I will eat anything that you put it front of my face, be it the finest caviar in the world served with the finest crème fraîche, or an airplane meal that expired in 1987. I hate cooking and I hate the dreaded "what do you want for dinner?" question even more. I'd marry a Gummy Bear. Warning: I'm disgusting.
For breakfast: coffee. Coffee, coffee, coffee. It's the first thing I do every day. It's the only thing that gets me out of bed. While I love a good brew, I'm not a coffee snob. Usually I just use, like, a regular coffee pot brewer kind of thing, and a lil' Cafe Bustelo. I dipped two Pepperidge Farm Chess Men cookies into my coffee. That's breakfast.
This is a rare day of me playing hooky, which means my meals are less square than when I am at the office at Sony Studios. Lunch was a mediocre Cuban sandwich from a random spot a few doors down from the Supreme store. On my way home, I ate Fritos and drank a Coke.
For dinner, I ordered delivery from Fusion Thai Bistro — shrimp-noodle soup. For some reason, it was amazing. It was pretty standard pho, but for some reason, it just did me right. I remember thinking it was much better than I thought it would be for basic Thai delivery. (No offense, Fusion Thai Bistro!)
Friday, March 21
For "breakfast" I drank coffee and dipped Oreos into it. Fun fact: I only like cookies in the morning. It's something I've been doing all my life, but it started becoming a regular thing in the past few years. I don't have a big appetite in the morning, but if I don't eat anything, I'm fucked. It seems like a filling, satisfying treat to give myself when I get up in the morning for work, which is hard enough to do every day.
At the office, I had oatmeal that I microwaved in a paper cup. I added some milk and raspberries. Perfection.
I ordered a Croque Monsieur for lunch that came with mashed potatoes. (I didn't realize how much I liked ham. Two days in a row?) I loved the mashed potatoes because they had the skins mixed in, which is rare yet awesome. I drank a Pellegrino Lemon soda, too. Fun fact: It's weirdly hard for me to finish an entire can of soda. I'm not a big drinker, and while we're on the subject, I'm not crazy about water, either.
I ate the second half of the Croque Monsieur for dinner and drank a Coke. A few hours later, I fucked with some Fruity Pebbles.
Saturday, March 22
On Saturdays, I'm in ballet class from 11 to 2:30 p.m., so I need to hydrate and eat, but I can't eat too much. This is where water really gets to shine, because when I'm in class, I drink so much water! I threw a few Clementines and an Uncrustable (frozen peanut-butter-and-jelly sandwich intended for children) into my dance bag, and ate those things throughout the afternoon.
Uncrustables are a writers' room staple, and they made their way into my own freezer. I don't care what people say: It's much harder to eat in L.A. than it is in New York. In New York, you walk into any bodega and get something. In L.A., you don't have that, and you're in the car. I can't eat cereal in the car! It's not a convenient city. And it's certainly not convenient for people that don't cook.
After ballet, my fiancé Paul [Rust] and I went to A.P.C. and West Elm. I drank an iced coffee. Famished, I ordered food from Il Capriccio, my favorite Italian delivery. I got the filet of sole with lemon and capers, potato wedges, and Capellini Aglio e Olio, which I just Googled. it means angel hair with olive oil and garlic. I was full and happy. Late night, I had a few Oreos washed down with white grapefruit juice (my favorite juice).
Sunday, March 23
Breakfast was a combination of Fruity Pebbles and Cheerios, chased with a coffee. No lunch.
Dinner was at my friend Amy's, who decided to throw me an "unofficial bridal shower" at her house. It was me, Amy, Rashida, Aubrey, and my friend Esther. Five girls sitting around. I just wanted to hang out, and Amy wanted a reason to go to Party City. She bought a ton of bridal-shower stuff and made Swedish meatballs and a delicious salad that was mostly kale, cranberries, goat cheese, and walnuts. The dressing was most likely Balsamic vinegar? She had a platter of sandwiches, off which I ate two turkey-and-Swiss ones.
For dessert, there was a lot of chocolate stuff, as well as French macarons brought over by my friend Esther. Lemon is my favorite macaron flavor, just FYI. Amy made me a little to-go box of food to bring home to Paul.
Monday, March 24
Breakfast was coffee with a leftover chocolate treat from Amy's gathering. I like dessert in the morning. Is that a crime? Is there really a difference between a cupcake and a muffin?
Lunch was from some Mediterranean place. I ordered a steak kabob and a combination salad which — who knew — was fantastic. The salad was like a quarter carrots and raisins, a quarter tabouli, and half Greek. Everything fit into its own compartment, too, which made things really manageable for my precious palate.
On my way home from work, I stopped at 7-11 and bought three different kinds of gummy candies: apple-flavored Sour Punch Straws, Mixed Berry Gummy Lifesavers, and a new candy that caught my eye called "Randoms." Not sure what was so random about Randoms, other than I guess there are different flavors and (probably) different shapes, but I couldn't even tell. I was too busy Instagramming a photo of the package. The Randoms weren't as good as I wanted them to be, but incidentally, the photo got more faves than any other I've posted. (FYI, 30 years from now, I will reread this and hate myself.)
Dinner: Fruity Pebbles. (Hangs head in shame.) I like either Fruity Pebbles, Lucky Charms, Apple Jacks, Cheerios, or Golden Grahams.Those are my staples, and I like mixing them together and cutting sugary cereals with Cheerios to try and make it a little healthy.
Tuesday, March 25
Coffee, obviously. And at work, I had a banana and a Clementine.
Lunch was corn chowder and a side of Brussels sprouts and squash. So good, so good, so good!
Dinner is currently waiting for me downstairs: Mixto's carne asada bowl, which is basically a big bowl filled with a bunch of Mexican love (greens, caramelized onions, black beans, avocado, corn, tomato, and cheese). I get it without the crema roja, also known as "spicy red sauce," because I don't care for spicy red sauce. I also add a side of their guacamole, because it is the best I've ever had. I'm not sure why! Each bite tastes like the first day of summer.