J.G. Melon is one of New York's O.G. burger destinations: Open on the corner of 74th Street and Third Avenue since 1972, the tiny pub is still consistently packed with neighbors and tourists alike, almost all of whom are ordering cups of chili, straightforward (excellent) cheeseburgers, and bowls of fried cottage potatoes on the side. But despite the place's ongoing success, it was still surprising last week to see news leak out that a second J.G. Melon will open downtown, at the corner of Bleecker and MacDougal. Details remained somewhat scarce, so the news managed to raise many questions: Would this really be an "authentic" Melon's offshoot? Who was behind the expansion in the first place? And why, after four-plus decades of success as a stand-alone operation, would the Melon's team want to expand now?
To find out, Grub got on the phone with Danny Abrams, the longtime New York restaurateur and owner of three Mermaid Inn locations, and his brother Steve, the Magnolia Bakery CEO who oversaw its rapid expansion over the past several years. The two are spearheading the expansion along with a third partner, longtime Melon's manager Shaun Young. Here's what they had to say.
This new location is the first of many to come.
Given the Abrams' experience with expanding brands, it's only logical that this new Melon's will serve as a template for further development: "For now," Steve says, "we're expanding in the New York and Tri-State area." Danny adds, "The first three or four will be in and around Manhattan. We've certainly considered places like Port Chester or Greenwich … I think that each one's going to be neighborhood specific to a certain extent." And the brothers say there are no concrete plans for anything like a J.G. Melon Dubai just yet, though it also sounds like they aren't ruling anything out, either.
The Abrams are first in line to buy the original location.
To make the new location happen, Abrams and Young licensed the J.G. Melon rights from original owner Jack O'Neill, who will, for the time being, maintain ownership of the original site. But the partners also secured the first right of refusal should the first Melon's ever come up for sale. "Look, Jack's an 85-year-old guy who's healthier than I am. I wish him the best; I hope he lives to be 110," Steve says. "He's a great guy, he's earned every right to have a great run on that place and enjoy it. That being said, one day, we hope to own that, too. If and when that happens, you know, we'll cross that bridge when we come to it."
The burger will be exactly the same.
The Abrams say they aren't changing anything: same beef, same cheese, same bun, same everything. (Though they are considering some additional topping options.) "When you're down there saying, 'Wow, this burger is the exact same burger, that's amazing,'" Steve explains, "that's what we want."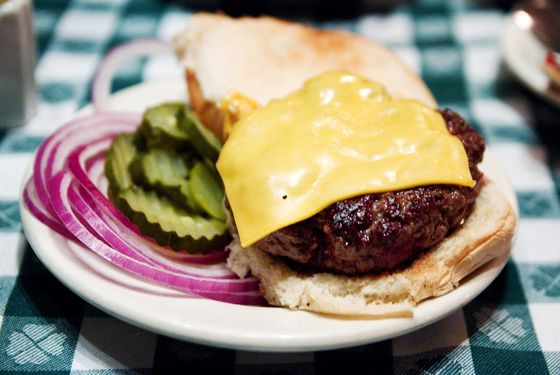 In fact, most of the menu will be the same — but a few things will change.
"You know, they have two steaks on the menu — a large steak and a small steak," Danny points out. "And I think they're $1.50 different in price, so some of those little idiosyncrasies [could change]." Otherwise, the menu will probably stay more or less the same, possibly even down to the broiled fish that's still on the original's menu, something Grub was certain nobody had ordered in at least 30 years. "I've had it, and it's actually not too bad," Steve says, "but I don't disagree that you shouldn't be ordering the broiled fish at J.G. Melon."
Melon's 2.0 should be ready to go this summer.
The partners say they only finalized the deal on the space a week and a half ago, but they're nevertheless aiming for a June opening. And, of course, there will be outdoor seating at the new corner space.
You can finally pay for a Melon's burger with a credit card.
The original location remains cash-only, but the team says credit cards will indeed be accepted at the new outpost.
The space is a little bigger, but the plan is to make it feel the same, too.
Despite a Times report that the new location will be smaller than the 900-square-foot original, the Abrams say that isn't the case, and that the real challenge is making the new spot feel as cozy as the original. "We're taking a big, square room, so one of the challenges of what space is, how do you break it up and have different zones like Melon does." To that end, they've hired Serge Becker to help. They aren't aiming for replica as much as homage, but they still don't want it to feel shiny and new. "In some of our design meetings, you know, we keep going back to, 'No, no no, keep it funky, make it funky,'" Danny says. "If that wall is uneven, then throw the level out. We don't want to be even." Really, the brothers make clear that they really just want to honor the original as much as possible: "If we do this right," Steve says, "It doesn't change and everyone goes, 'Wow, it's exactly the way it was.'"
This post has been updated with new information.