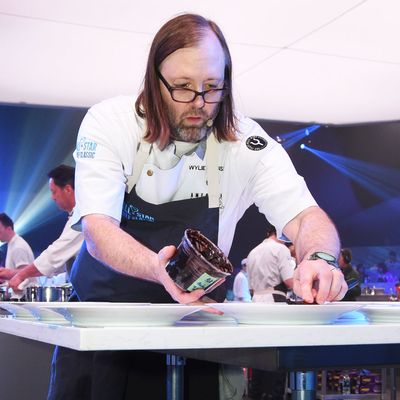 Mazel tov!
Photo: Adam Pantozzi/Bernstein Associates, Inc./Getty Images
The Who's Who of Food & Beverage in America is an annual tradition for the James Beard Foundation: It's an award given to five people who "have made a significant and unique contribution to the American food and beverage industry." Sure, the description is vague, but the honor carries meaning, and the inductees get called out at the May 5 ceremony.
This year, the Foundation has selected Allan Benton, the owner of Benton's Smoky Mountain Country Hams in Tennessee, and one of the most respected pork producers in America; mixologist Dale DeGroff, who's perhaps best known for pioneering cocktails at the Rainbow Room in the 1980s; Wylie Dufresne, the (James Beard) award-winning chef of Alder and the late wd~50; cookbook author Nathalie Dupree, who specializes in Southern cooking; and Maricel Presilla, the chef and co-owner of several Latin restaurants in Hoboken, as well as a cookbook author. Well deserved!