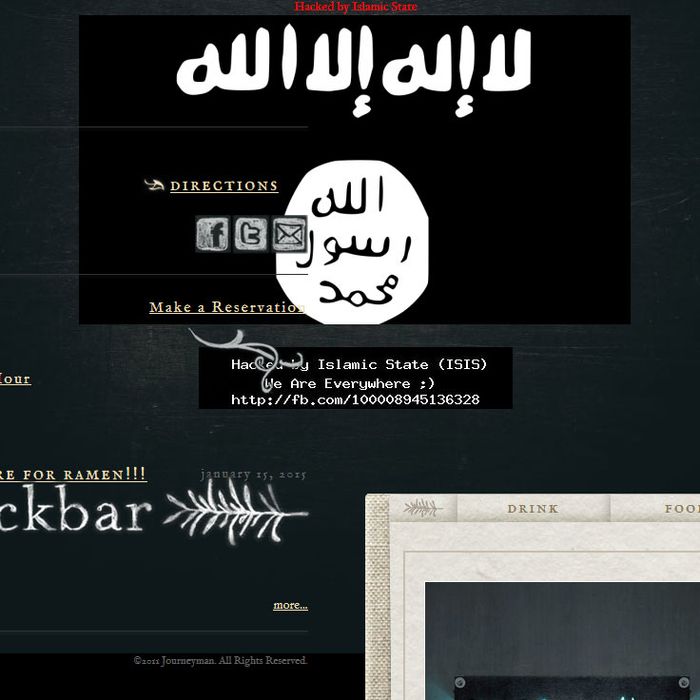 You're everywhere? Really?
This weekend, a hacker purportedly with ISIS took over a bunch of websites — but managed to only afflict a Boston bar with laughter. "Mohammed Ali" tweaked the popular cocktail lounge Backbar's homepage so it read "Hacked by Islamic State (ISIS). We Are Everywhere :)" across the top, and added a large ISIS flag. But even Boston.com wasn't impressed with what amounted to little more than "a brutal act of restaurant web design terrorism." It seems pretty far-fetched that ISIS would hack the website of a bar in suburban Boston, after all.
When Backbar's site went rogue Saturday afternoon, co-owner Sam Treadway informed customers on Facebook that there was indeed a problem. By 7 p.m., it had just become a joke: "Our website is now fully down … but the bar is fully open! It's Saturday night! Come have a cocktail, don't let ISIS win!" He rallied both the Reddit and Twitter communities, too.
No one seemed that concerned, but the FBI says it's looking into this Mr. "Ali," whose other victims this weekend included a Minnesota brewery, a Long Island hotel, a Goodwill, and, just for good measure, a zoo.