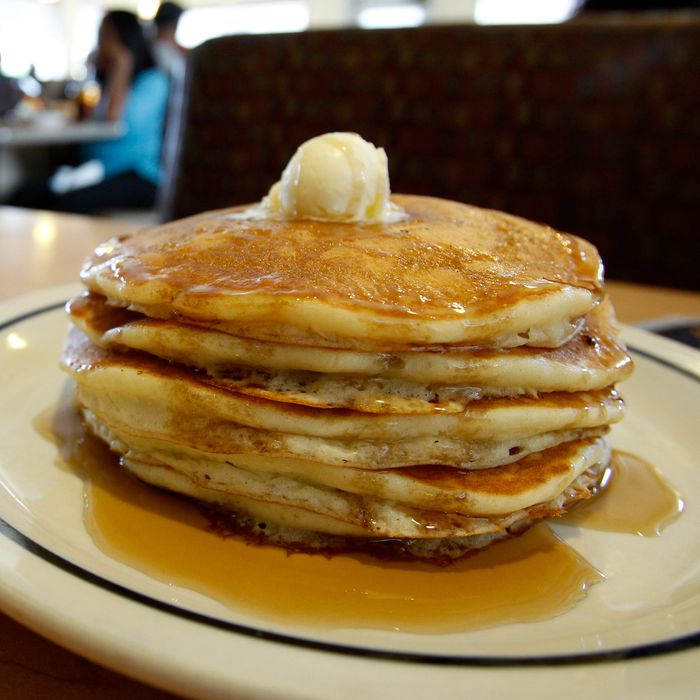 On a Tuesday.
Photo: Mario Anzuoni/Reuters/Corbis
Today marks one of the most important fake annual food holidays: National Pancake Day. It's the one day each year that people love IHOP. That's because they're giving away pancakes and helping out charity (this year it's Children's Miracle Network Hospitals). So take your hand out of a box of dry cereal, and go get yourself a short stack of buttermilk pancakes. Better yet — bring your whole squad. Look how excited people are:
This guy just asked a girl to prom at IHOP on free pancake day God bless pic.twitter.com/koifXe39hW— yunq trap queen (@yunqtrapqueen) March 3, 2015

NOT 1D: TODAY IS FREE PANCAKE DAY AT IHOP— 1D UPDATES (@Currently1D) March 3, 2015

Me: "it's free pancake day at iHop." Dr. Coon: "oh shit, class is cancelled!" *runs away* #LoveThisJob— Keegan Woche (@WocheTalkie) March 3, 2015

It's FKn' 💯% LIT 🍴*inserts pancake emoji*🍞 lmao Have A Great Day👌 "ihop Going Up On A Tuesday"… https://t.co/ug2Thmewxj— ॐMasterOfCeremonies∞ (@Mark_The_MC) March 3, 2015

U might just meet yo soulmate at IHOP free pancake day— SubZero (@Monty588) March 3, 2015

Just remember: You only have until 10 p.m. to get your free stack — not midnight.