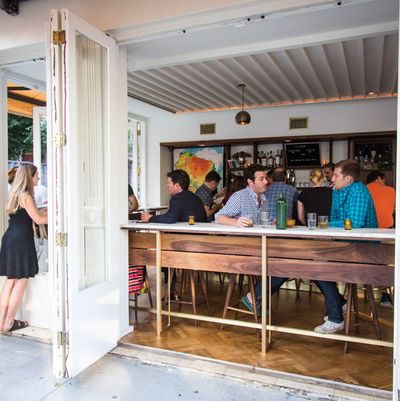 Window seats at Bar Sardine overlook West 10th Street.
Photo: Henry Hargreaves
You've spent all winter hibernating inside, binge-watching Netflix, and generally doing whatever you can to shield yourself from the elements. No more! With temperatures steadily creeping up, it's time to come out of hiding. And now you need somewhere to go. We've got you covered. Here are Grub's picks for places with big windows, plenty of light, great drinks, and fresh, vegetable-driven food you'll want after months of bone broth, short ribs, and potpies. Here are 22 places where you should go tonight:
Vic's
You can sit outside and enjoy Hilary Sterling's goat-feta pizza, heirloom-carrot appetizer, and burrata on charred-onion-romesco toast.
Barbuto
Is there a better warm-weather restaurant? When Barbuto's staff raises the garage-door walls, it's a must to run over there and order a glass of rosé, at the least.
Alder
Wylie Dufresne's now focusing all his attention of his East Village restaurant, adding new dishes like a pistachio-ice-cream sundae with charred yuzu fluff, salty pretzels from the Greenmarket, and cherry gummy candies. Plus: Look forward to outdoor seating.
Santina
This new Torrisi-owned hot spot is the ideal warm-weather restaurant, with tropical decor and light Mediterranean food.
Pok Pok Ny
Now that Pok Pok Ny accepts reservations, you can plan ahead to sit on the patio and eat fish-sauce wings.
Roberta's
Pizza time! Sit outside and eat a classic Margherita pie, as well as salt-baked celery root, spaghetti alla chitarra, and grilled mussels with carrots.
Gotham West Market
It's warm enough that it's an easy walk from most midtown offices to Gotham West Market on 11th Avenue, which offers floor-to-ceiling glass windows, food from several stellar vendors, and, soon, extended outdoor sidewalk bars.
Bar Sardine
Bar Sardine also opens its window this time of year — and if you get lucky, you can score a bar seat overlooking West 10th Street. There are some new menu items, too: a $19 hanger steak with pomegranate molasses, smoked-whitefish toast with pickled egg, and a crispy local squid with tzatziki.
Empellon Al Pastor
Alex Stupak's most casual restaurant is ideal in this weather: All of the windows open up and line the restaurant. Plus: tacos!
The Dutch
Head to Soho for a glass of Prosecco, a "little-oyster sandwich," and a coconut-passion-fruit sundae with guava sherbert, lemon ice, and cashews.
El Rey Coffee Bar & Luncheonette
The combination of fresh California-esque food and open-air windows simply can't be beat — especially now that chef Gerardo Gonzalez serves dinner, too.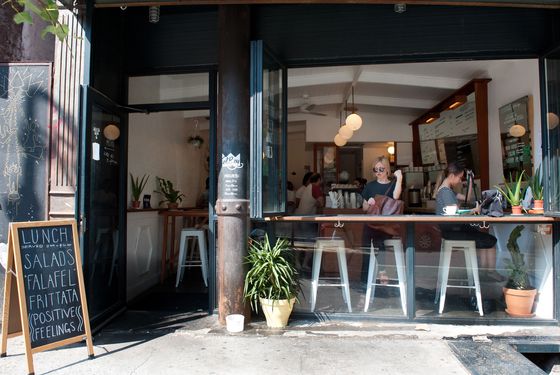 Fritzl's Lunch Box
The best thing about burgers is that they're perfect regardless of the weather outside. This Bushwick restaurant makes a great one, and also has a large outdoor-seating area.
Buvette
Buvette's back garden is one of the most charming (and private) outdoor spaces in the city. Skip the cassoulet in favor of the salad with shaved Brussels sprouts.
Ivan Ramen
While ramen certainly isn't the obvious springtime-appropriate food, Ivan Orkin serves plenty of other gems, like a pickled-daikon salad and a smoked-salmon rice bowl. And remember: There's a little patio out back.
Jack's Wife Freda
The Lafayette Street location has already set up chairs outside, and the Carmine Street outpost has plans to follow suit.
Mission Cantina
Here's another stellar place that keeps the windows up and serves tacos all day and night. New-ish menu items include a whole fried fish with peanuts and a burnt-jalapeño vinaigrette, Japanese-scallop sashimi, and a tray of sea urchin.
La Birreria
Eataly's European-style beer garden is perhaps an obvious choice, but it's still a great one. Try to avoid the crowds and go on the early side.
Rosemary's
It's about time that you reintroduced vegetables into your diet, and Rosemary's grows them on its rooftop garden. Chef Wade Moises also has a new happy-hour menu, with charcuterie, oysters, and fried housemade mozzarella balls.
Mu Ramen
While there's nothing particularly spring-centric about this new ramen joint, it's finally warm enough to comfortably make the trek to Long Island City.
Battersby
If you haven't eaten Battersby's kale salad (with green papaya, Thai basil, and peanuts) in its beautiful garden, change that immediately.
Bar Pitti
Wouldn't you like to be one of those beautiful people sprawled across Sixth Avenue? Both Bar Pitti and its neighbor, Da Silvano, are best enjoyed in shorts weather.
Navy
Don't forget about this little Sullivan Street restaurant: There are stools overlooking the open windows, and the menu includes light bites like tuna crudo and scallop ceviche.