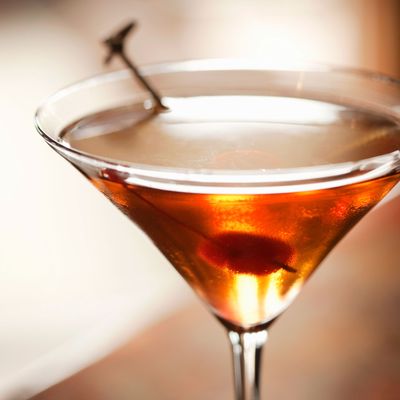 Google says that a chilled glass is nonnegotiable for a Manhattan.
Photo: Corbis
Ever notice those random fact cards atop Google searches that resolve life's lingering questions about Thomas Jefferson's birthday, or the life span of a goat? They're from something called the Knowledge Graph, and Google has now expanded that to include cocktail instructions for whiskey sours, Manhattans, bloody Marys, and a bunch of other drinks.
For the most part, they're quick-and-dirty: Google is not the place to go for a DIY Corpse Reviver #2 — but when's the last time you successfully pulled one of those off, anyways? This tool is more for when you're at a party and can't remember how to make a French 75. Recipes are pulled from publicly available web sources, but it's not clear whose they are. Google says it vets them for accuracy, though. And hey: It even tells you which glassware to use.
[Google/Twitter via Verge]