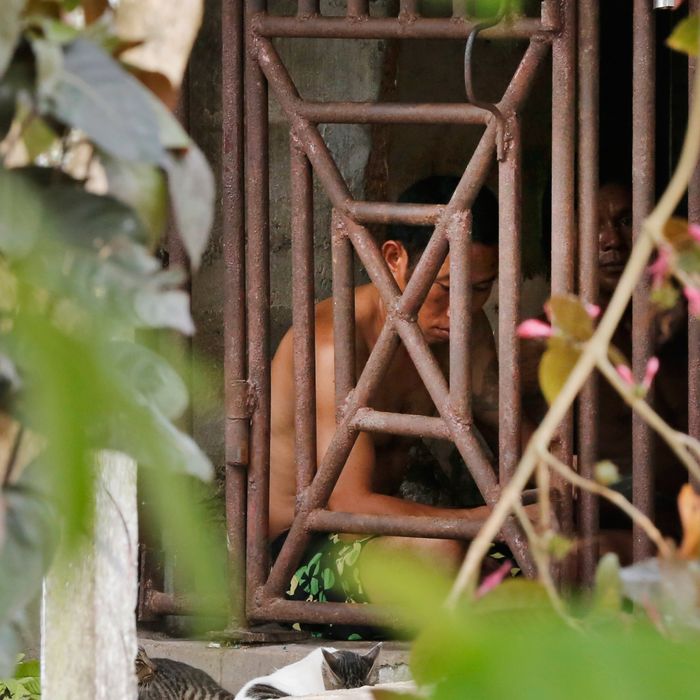 Thai and Burmese fishermen, held in a cage so they can't run away.
Photo: Dita Alangkara/AP/Corbis
The horrid conditions endured by fishermen in Asia have been public knowledge for some time, but a new Associated Press investigation reveals new, gruesome details.
Reporters spent a year using satellites to track shipments of slave-caught fish (squid, snapper, grouper, and shrimp, in this case) from Thai harbors to fish markets. These fish, they write, feed into "the supply chains of some of America's major grocery stores," including Walmart, Kroger, Albertsons, and Safeway, as well as Sysco — the country's biggest food distributor.
This is all made more horrifying by the addition of interviews with fishermen themselves: Men who've often been kidnapped or tricked into working these jobs, and say they are whipped with toxic stingray tails if they try to rest during 22-hour shifts. One company, Pusaka Benjina Resources, literally keeps its workers in a cage on the dock.
The U.S. companies that buy these fish tell the AP they don't stand for labor abuse, but it's hard to take action because they don't know exactly what's sold to them. As a rep for the National Fisheries Institute, a trade group that Walmart and the others belong to, says, "These type of things flourish in the shadows."
[AP]