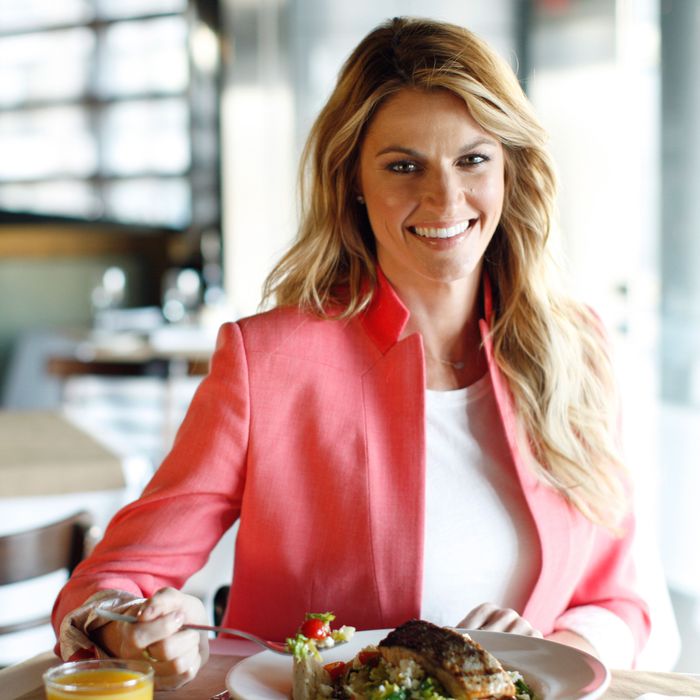 At Landmarc, one of her favorite restaurants.
Sportscaster Erin Andrews — currently the host of Fox College Football, and formerly of ESPN — is in her off-season right now, which means she actually gets to spend time at home in Los Angeles. Even though she's keeping busy hosting Dancing With the Stars, she's nevertheless found time to settle into a nice routine with her live-in boyfriend, NHL player Jarret Stoll: Andrews is cooking more often, enjoying low-key nights with delivery food, and also balancing her morning green-juice habit with margaritas. Read all about her week of eating:
Thursday, March 12
I wake up early and take a workout class around the same time each day, so I try to keep it light for breakfast. I almost always have Greek yogurt with some granola, and I'll throw in a cup of coffee really quick. After my Pilates class in South Bay, I guzzled a glass of orange juice and drank a green juice. I'm not the best when it comes to eating my vegetables, so green juices help.
For lunch, I made myself a Cobb salad with turkey. I'm trying to learn how to cook, especially because this is my off-season right now. I'm not traveling as much for football, so I'm trying to cook more — and it's something I have vowed to do for my boyfriend as well, because I am not home during football season.
I snacked on cranberry trail mix, and then, for dinner, I went out with some girlfriends. We went to a local Mexican restaurant, El Sombrero. We watched my boyfriend's hockey game, which was in Vancouver. I ordered a quesadilla, and then I had guacamole, corn tortillas, and a couple of margaritas.
Friday, March 13
Friday's feast started with another Greek yogurt — this time, strawberry! I headed to Physique 57 in Beverly Hills. I eat like a guy, so I need to be diligent about my workouts. On the way home, I drank a green juice and then a glass of orange juice. (I represent Florida Orange Juice, but even before that, my parents used to kind of joke with me that I could drink a glass of orange juice whether it was with a big dinner or before I went to bed.)
My boyfriend had already eaten lunch, so I just whipped up some egg whites and turkey bacon and scrambled it all up. I am somebody who can breakfast all day long.
We had a low-key night because he had a game the day before, so we decided to order in from this place in South Bay called Fish Bar. I ate blackened salmon and steamed broccoli, which is fantastic. And mashed potatoes! That's also why I rationalized having egg whites for lunch — because I knew I was going to have the mashed potatoes for dinner.
Saturday, March 14
Yogurt, granola, and coffee. I am really, really boring for breakfast, just because I am always waking up and I am just rushing to the gym right away.
Lunch that day was homemade turkey chili. My boyfriend wanted chili, so I tried for him. I got the recipe from my girlfriend, who said it was easy to put together. It took a long time to simmer — or whatever the heck it was doing on the stove. I'm learning all of this! It was like a three-hour ordeal. I knew he was getting hungry, so I also tried making him spaghetti squash to tide him over. The recipe involved adding an egg over it with Parmesan cheese and chili flakes.
The chili turned out pretty good. I know it seems like I eat a lot, but I am on his schedule in terms of being a professional athlete and making sure he gets enough protein.
We have this amazing mom-and-pop Italian restaurant just down the street from us on the beach. It is called Bottle Inn, and one of our favorite dishes is chicken basilica — chicken with rigatoni, cream sauce in it, chili flakes, and sun-dried tomatoes. It is delicious. We ordered that in.
Sunday, March 15
I made a smoothie for breakfast this morning, with berries, Greek yogurt, protein powder, and bananas. I took it with me on my way to Pilates.
I knew that going to have a big dinner again, so I made another egg-white-and-bacon scramble. Then I had another blueberry smoothie, minus the protein powder.
At night, we went to our favorite sushi restaurant in South Bay. It is called Izakaya. We ordered salmon sashimi, baked-crab hand rolls, tuna sashimi, and spicy tuna rolls.
I will have a bite of dessert every now and then, but I'm not obsessed. My boyfriend definitely orders dessert every single night. It's annoying. He'll get into bed with banana pudding and Fruit Loops!
Monday, March 16
Monday was a weird day for me, because I was at the studio all day long for Dancing With the Stars. I literally grabbed a cup of coffee on the way there, and then drank a premade almond-milk smoothie from my Pilates gym.
When I got to the studio during my script read, I had someone order me a spicy tuna roll from an all-natural place called Air One, which is next to the studio. I didn't get home until like 9 p.m., and my guy had ordered Chinese food, so I ate what he got: steamed chicken with broccoli and brown rice.
Tuesday, March 17
This was a screwy day because I was stranded in the airport for about five hours. That was exciting! I tried to be amazing and grab yogurt on the way, but then I got stuck there forever, so I ate a breakfast burrito in the Delta terminal. I drank orange juice and — not going to lie — a couple of glasses of Pinot Grigio.
On the plane, I ate the famous Delta dinner of salmon and mixed vegetables. And, yes, I had a chocolate cookie because I was tired and annoyed. I did enjoy about two glasses of red wine, though!