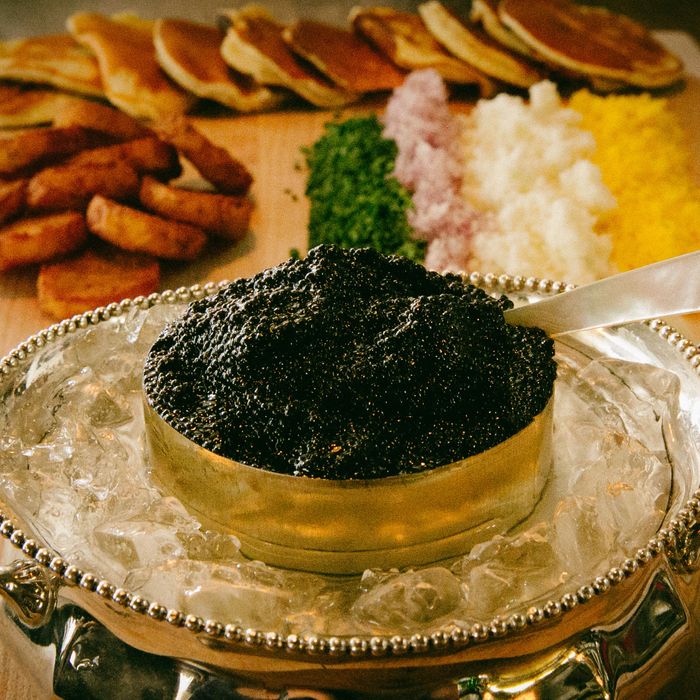 Jeffrey's Grocery sells caviar at cost.
Photo: Jeffrey's Grocery
In New York, discounted food and drinks rarely align with anything that's high quality. But as it turns out, many excellent, elegant restaurants actually offer sweet specials: prix fixe Sunday suppers, $1 oysters, and, of course, happy-hour deals. You just have to know when exactly to show up to places like Porchlight, Maison Premiere, and Birds & Bubbles. With that in mind, here are a dozen great restaurant discounts, featuring things like caviar, buffalo sweetbreads, and goat's-milk ice cream.
Where: Porchlight
What: Happy-hour specials
Danny Meyer's brand-new bar offers a few discounts from 5 to 7 p.m.: $5 punch, $9 dark- and light-spirited cocktails, and $9 beer-and-bite combinations. And hey, there's even an indoor porch.
Where: Hearth
What: Cichetti Sundays for $50 per person
Marco Canora serves up a Venetian-esque family-style meal once a week, with beef tartare, lamb ribs, and Tuscan fries. It's a great way to make the weekend feel as long as possible.
Where: El Colmado at Gotham West Market
What: A Happy-hour special of a half dozen oysters with a glass of Cava for $11
Monday through Friday, from 3 to 7 p.m., Seamus Mullen's tapas bar offers the perfect after-work snack — and there are $1 oysters, too.
Where: Maison Premiere
What: $1 oyster happy hour
Over in Williamsburg — from 4 to 7 p.m. Monday through Friday, and 11 to 1 p.m. Saturday and Sunday — Maison Premiere sells $1 oysters and clams.
Where: The Gander
What: Choose any two lunch dishes for $25
It's a pretty good bargain, considering the options include buffalo sweetbreads, an open-faced rotisserie-chicken sandwich, and a dry-aged cheeseburger.
Where: Northern Spy Food Co.
What: Sunday Supper for $27
This three-course prix fixe meal is a nice way to sample the restaurant's menu. Dishes change weekly, depending on what it's in season, but recent ones include rabbit potpie, buttermilk-fried chicken, and chocolate-beet cake.
Where: Birds & Bubbles
What: The Winner Winner Chicken Dinner for $75
Considering this full meal comes with a whole chicken, four sides, and a bread basket, it's a sweet deal. The best part: It's available every single night.
Where: Jeffrey's Grocery
What: Caviar at cost, ranging from 50 to 500 grams
New to Jeffrey's Grocery's menu is a (relatively) affordable caviar deal that begins at $30: Selections include domestically harvested grinnel, sturgeon, and ossetra caviar, all of which come with the full spread — blinis, chives, crème fraîche, chopped egg, and housemade latkes.
Where: Mermaid Oyster Bar
What: Happy-hour specials like $1 oysters, $6 glasses of wine, and discounts on mini appetizers
This restaurant quietly has one of the most appealing happy hours in town — especially when it heats up and you can sit outside. Happy hour lasts all night on Monday, 5 to 7 p.m. Tuesday through Friday, and 4 to 7 p.m. on weekends.
Where: Victory Garden
What: Soft-serve happy hour on Fridays
The West Village goat's-milk ice-cream shop has a bunch of daily specials (lunch deals, chia-seed-pudding discounts on Monday mornings, etc.), but its best deal runs from 4 to 7 p.m. on Fridays: two-for-one ice cream for $4.99.
Where: Barboncino
What: Happy-hour drinks and pizza deals
This excellent Crown Heights pizzeria knocks $3 off the price of beer, and sells select cocktails and wines for $8 from 5 to 7 p.m. on weekdays. Plus: You'll usually find a food special — like a discounted pizza or an appetizer.
Where: Num Pang
What: Discounted sandwiches at happy hour
The NoMad location lowers the price of its Cambodian sandwiches to $6 from 4 to 7 p.m., Monday through Friday. It also sells Tiger beers for just $2.