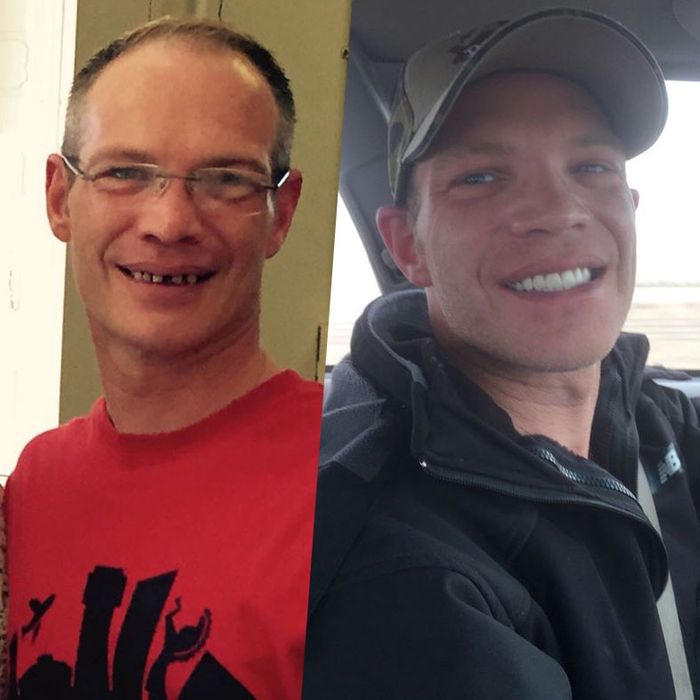 All smiles.
Photo: Courtesy of Doo-Dah Diner
Customer Fred Boettcher only ate at the Doo-Dah Diner in Wichita, Kansas, one time, but he nevertheless felt compelled to leave a tip of $25,000. The reason: He wanted server Brian Maixner, a gregarious 43-year-old single father who suffered from dental decay, to be able to buy a new set of teeth.
According to the report, Boettcher felt a kinship with his server because he, too, was plagued with dental issues when he was younger. So, according to diner owner Timrie Shibley, the generous customer wanted to do something: "He just said, 'I know this sounds crazy, but I want to help him.' He said he had done this for nine or 10 other people, and has lived a blessed life and wanted to help." It wasn't long before Maixner surprised regular customers with a new smile (thanks to temporary dentures), and the diner could post a before-and-after pic on Facebook along with this message:
If you were in the diner today … and wondered why some of the staff were walking around a little teary … it's because one of Brian's customers today gifted him with a complete dental makeover as a way to pay it forward for the many blessings he's received in his life. Brian will be starting the makeover in the next couple of weeks, and was quite moved … if you know Brian, he always has a smile and aims to please regardless of how his teeth appeared.
In addition to the dentures, the money will also pay for permanent implants that Maixner will receive later this year. Doo-Dah's customers are apparently still wowed, and it sounds like Maixner can't believe the transformation yet either. "I'm still looking at the mirror!" he says.
[NYDN]