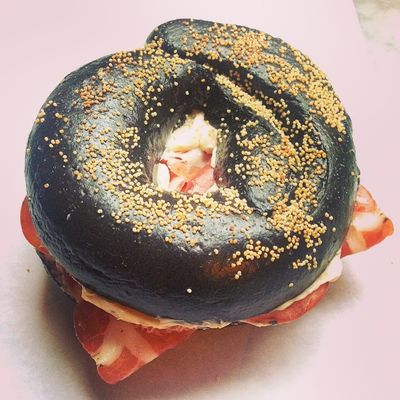 Black Seed Bagels is in the home stretch of its special chef-collaboration series, which means the shops are now featuring a creation from none other than Danny Bowien. For his part, the Mission Chinese Food chef has put together a squid-ink bagel sandwich filled with anchovy butter and fat-streaked Ibérico ham from Spain. As the first shots have popped up on social media, two things come to mind immediately. One: Grub Street can definitely get behind the idea of starting each day eating something this luxurious for breakfast. And two: Shots like these should help Black Seed Bagel maintain its standing as New York City's preeminent spot to Instagram your order:
And just in case you need it, Bowien sent out this shot from a different angle:
These babies will be on sale through this Sunday, and will run you $13.75. Admittedly, that is not the most inexpensive midday meal option, but given the pedigree of the ingredients (specifically the ham, which tends to retail for around $100 per pound), it's also not unreasonable.