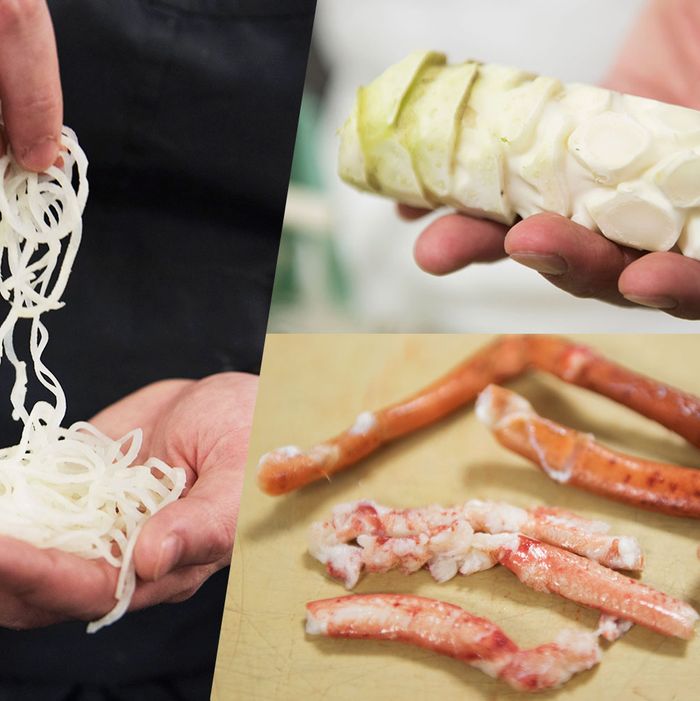 The Eleven Madison Park chef will pair cauliflower stalks with lobster legs.
Photo: Liz Clayman
Dan Barber is about to tackle his latest ambitious project: For the two next weeks, Blue Hill will become a pop-up called wastED that's focused entirely on food waste. (The interior of the restaurant will be redesigned, too.) Barber will serve a menu of à la carte dishes — all $15 — that utilize parts of vegetables and animals that cooks and producers often discard, like vegetable pulp, pickle butts, skate cartilage, and misshapen pastas. But there's more: Barber has also recruited his talented peers to help out, and there will be one dish per guest chef per night. The stellar lineup includes big names like Sean Brock, Alain Ducasse, April Bloomfield, and Grant Achatz.
First up is Eleven Madison Park's Daniel Humm, who will serve "Ribbons of Cauliflower Stems with Lobster Leg Meat and Vanilla" at Blue Hill this evening. "The project has served as a great reminder for me and the team," Humm says. "It has been useful in making sure we're aware of food waste, and that we're looking at ways to creatively minimize it."
In fact, this is exactly why Barber decided to call upon his peers: He wanted to spotlight the way fine-dining chefs already utilize waste, while also pushing the chefs to take things even further. "If you go to any white-tablecloth restaurant, you would be able to pick out a third of the menu that incorporates what we might readily consider waste," Barber says. "Of course, you call it a ravioli and charge $17, but you're using yesterday's vegetables and cheese. That's the same idea, in many ways. In tandem with that is recognizing that chefs are utilizing waste in really creative and smart ways, and always have. It's part of the DNA of what it means to be a chef."
But why turn over his entire restaurant to this endeavor? "The spirit of this project is to answer the critique of restaurants as places of pretension and waste," he explains. "We want to utilize creativity to change the understanding of what's waste. It's about taking what's not coveted, or not even considered suitable for a menu, and making it delicious. To me, that's the larger goal, and how you inculcate that kind of mind-set change."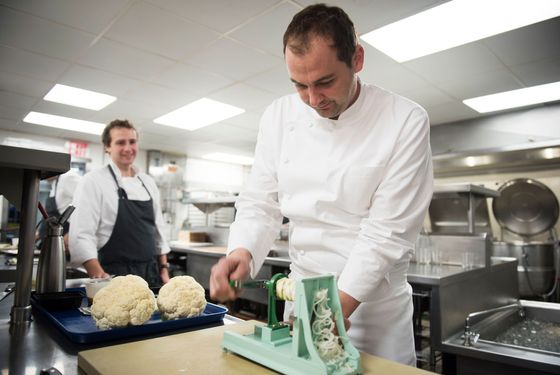 The wastED menu is filled with unexpected ingredients: Barber went to Raffetto's and asked for leftover pasta — noodles cut incorrectly, or left in the machine — and he's combining all the rejected brands and shapes and sizes. He's also making a vegetable-pulp-based cheeseburger, which he'll top with pickle butts, a ketchup comprised of rejected vegetables from a Wisconsin beet breeder, and a bun made from repurposed stale bread from Balthazar. Plus: French fries crafted out of skate-wing cartilage, whey-soaked bread pudding, and a sorbet made with the husks of chocolate cocoa.
It's all a bit unusual, but, then, there's the dog-food dish. Yes, dog food. "Dickson's in Chelsea Market buys a lot of the same animals as Blue Hill buys, from some of the same suppliers, but Dickson can't buy whole animals," he says. "He does a lot of offal and off-cuts, so when he saw dog food on the menu, we asked him for the recipe. We made it, and it's delicious!"
"We're riffing on his recipe, and adding dairy from the Blue Hill Farm — utilizing cows that are past their prime," Barber continues. "I don't mean to put dog food on the menu for shock value, but it is what it is, and it's a good recipe."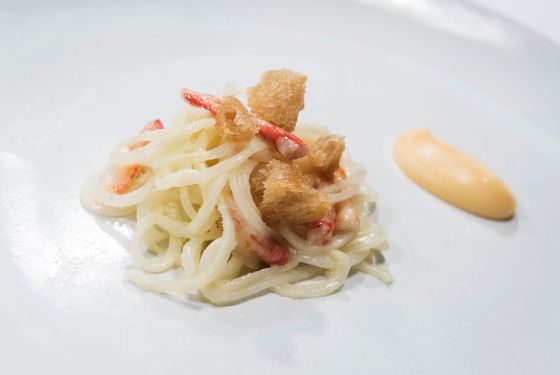 Even Barber — widely regarded as one of the most innovative chefs in the world — is humbled by the idea that this is nothing new. "No one's going to claim that a project like wastED is a brand-new way to look at food," he admits. "It's cultural change at work. Not long ago, eating sushi was like eating insects. Lobster was fed to prisoners. America has a topsy-turvy food culture, where things are repulsed and then coveted. Part of the goal is to take advantage of a culture that you don't have in Japan, Italy, or France, where the food traditions are much more steadfast, and for good reason. Those cultures are based on cuisines that, in and of themselves, are all about waste."
He offers an example: "Coq au vin is a tough male chicken. You didn't, like we do today, throw it into dog food. You braised it in wine and made an iconic French dish." (Maybe Barber's onto something with this dog-food thing.) "The lesson — and no chef is going to disagree with this, because I've talked to all of them — is that this is the basis of cooking. This is what every great chef was taught to do."
Humm, meanwhile, is totally onboard. "Cutting down waste is also essential for so many reasons outside our walls," he says. "And with Dan launching this project, it's sure to be just the tip of the iceberg."