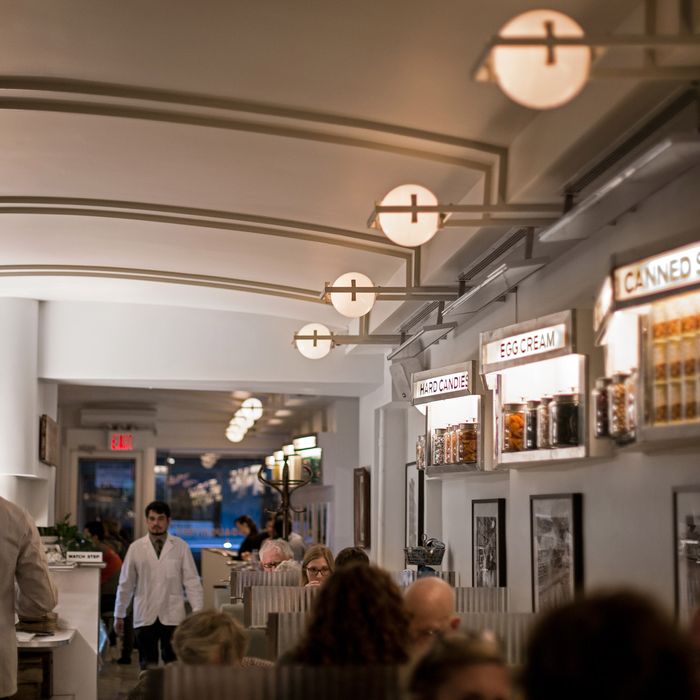 Russ & Daughters Cafe is offering a prix fixe menu.
Photo: Jen Snow/Kelli Anderson (Courtesy of Russ & Daughters)
It's telling that the highlight of most Passover dinners is the search for the afikoman — a broken piece of matzo. That is to say, it can be difficult to work up much enthusiasm for the traditional dishes that are served: haroset, gelfite fish, chopped liver, dried fruit, one-note brisket. But the good news is that New York restaurants are hosting Seder dinners that seem interesting and fun, without totally losing sight of tradition. Passover's not until the first week of April, but it's going to take some time to convince your Jewish family to mix things up (and to secure a reservation). With that in mind, here are seven Seder alternatives:
Mile End
When: April 3 and 4 at 7:30 p.m.
Price: $125 per person, email to reserve
The Noho location will host a six-course dinner with dishes like matzo-ball soup, smoked lamb shoulder, and an apple-and-almond cake. Expect it to strike the right balance between traditional and modern.
Vic's
When: April 7
Price: à la carte
Here's a refreshing twist: Chef Hillary Sterling will cook up dishes inspired by Seder Hamishi, held on the fifth night of Passover. They include "carcofi alla guidea" (artichokes, celery, herbs, garlic, bottarga, for $16), "stracciatella" (egg, capon brodo, matzo, for $11), and "tortino di azzine" (lamb lasagna, beets, Swiss chard, and Pecorino, for $19). Plus: The specials will be served in addition to the regular menu, if you want to throw in a pizza or two.
Russ & Daughters Cafe
When: April 4 at 7 p.m.
Price: $175, email to reserve
Musician Laurie Anderson will host the inaugural Seder at Russ & Daughters Cafe — which will surely become a yearly affair. The restaurant will serve a prix fixe menu, and you can expect classic offerings like chopped liver.
Joe & Misses Doe
When: April 3 to 5, reservations available through the night
Price: $80 per person, call 212-780-0262 to reserve
The four-course meal includes a Seder sampler plate with fried matzo, brisket with horseradish sauce, and, best of all, a Passover sundae with housemade brittle, chocolate sorbet, fudge, and coconut.
Telepan
When: April 3 and 4, reservations available through the night
Price: $95 per person, call 212-580-4300 to reserve
How about a smoked-trout potato latke to spice things up? Telepan gives diners some choices during the meal, like arctic char with candied beets, striped bass, hanger steak, and, of course, brisket.
Kutsher's at Ed's Chowder House
When: April 3 and 4, seatings at 5 p.m. and 8 p.m.
Price: $89 per person, $49 for children under 8, call 212-956-1288 to reserve
The now-shuttered Kutsher's will rise from the dead to do a pop-up for two nights only. The five-course family-style feast offers chopped duck and chicken liver, roast chicken with foie gras, and Passover confections like coconut macaroons, Nutella halvah, marshmallow twists, and jellies.
Fung Tu
When: April 3 to 11
Price: à la carte
This American-Chinese restaurant isn't offering a prix fixe Seder menu, but, surprisingly, it will serve Passover specials for the duration of the holiday. Chef Jonathan Wu will prepare char-siu brisket ($26), cooked in the Cantonese-barbecue style, and stir-fried matchstick potatoes with herring and chile oil ($13).