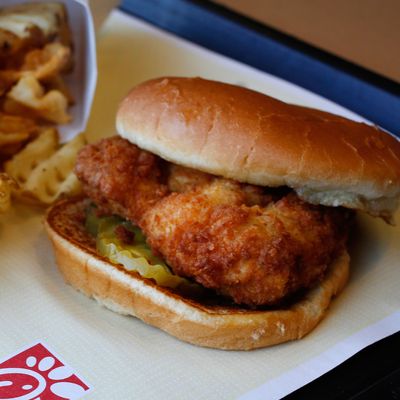 For real this time.
Photo: Luke Sharrett/Bloomberg via Getty Images
New Yorkers will see very soon how well last year's strategic image-softening fares for Chick-fil-A. The company has confirmed the opening of its first stand-alone New York City location, at 1000 Sixth Avenue (at the corner of 37th Street), near Herald Square. The chain hopes to get the restaurant up and running by late summer.
Crain's took a look at the plans, which reveal that unlike the dinky New York University outpost, this one's a three-story, 5,000-square-foot leviathan, with ten registers and 80 seats. The location will shut down on Sundays — probably the sole storefront to do so in that part of midtown. A rep for the company tells Grub:
We are beyond excited about opening our first franchise restaurant in New York. Until now, the only place you could enjoy our food was on the campus of NYU. We are ready to fire up the grills and serve our chicken, hot waffle fries and fresh lemonade to the Herald Square neighborhood. This location will allow us to serve fans who have been asking us to come to New York and to earn the opportunity to serve new customers, as it will be the first of many locations in the city.
There you have it. Definitely the first of many.
[Crain's]