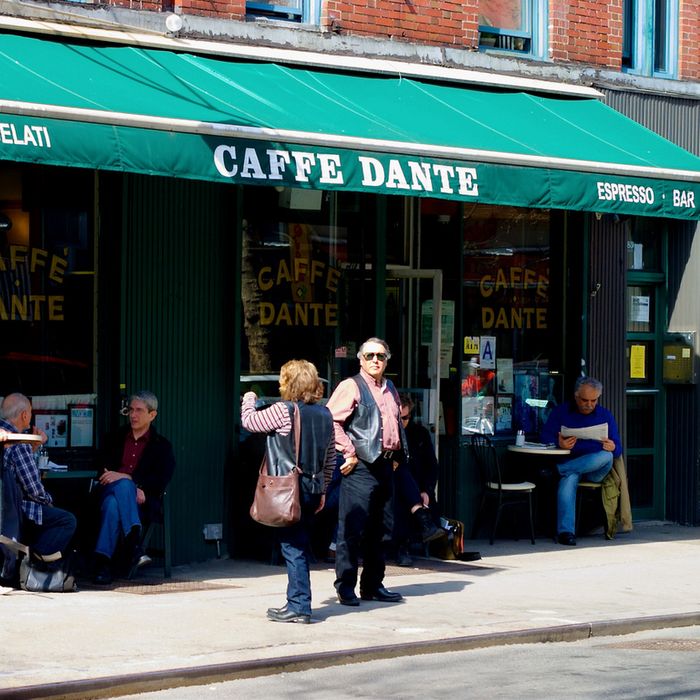 Miss you already.
Photo: Billie Ward/Flickr
News broke on Monday that Macdougal Street's Caffe Dante closed after 100 years in business. At the time, it seemed that owner Mario Flotta had sold his business to an Australian restaurant group that planned on keeping things largely the same. Now, sadly enough, it looks like the new concept will be something much worse.
According to DNAinfo, Linden Pride, the director of operations at AvroKO — the hospitality group behind Saxon + Parole and Beauty & Essex — will open a small-plates restaurant. In his CB2 application, Pride invokes every restaurant buzzword imaginable to paint a picture: "seasonal flatbreads," locally sourced salads, "aquatic delights," "hand-to-mouth" bites, "kick-up classics" for cocktails, wine made by "true artisans," — with a "focus on clean, healthy eating," of course. (Where's the bone broth? What's the game-plan for ramp season?)
The application also indicates that Pride will change Caffe Dante's name, as well as its interior, façade, and the signage — a delicate matter because it's a landmarked building. Pride's "European-inspired" all-day restaurant is set to open in late spring, and it'll be quite a departure from the true neighborhood spirit of Caffe Dante.
[DNAinfo]