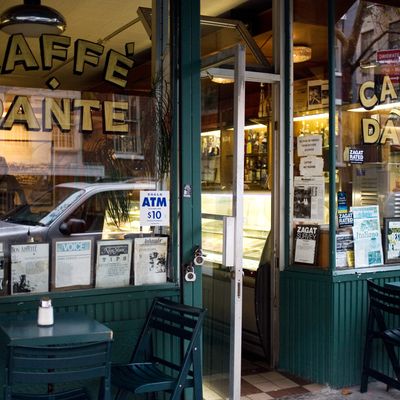 R.I.P.
Photo: Konstantin Sergeyev
It's rare to find a restaurant like Caffe Dante: Over the course of 100 years, the family-owned business has stayed true to its roots. It forbade the use of computers and remained cash only. The menu included antipasti, excellent cannoli, wine, and, of course, espresso, but it was never really about the food. Caffe Dante had incredibly loyal regulars — mostly charming older Italian men — who visited day after day, year after year. In the warmer months, they sat perched outside on MacDougal Street, sipping coffee and playing chess.
For the past year, there have been rumors of Caffe Dante closing, and now it's been confirmed. Owner Mario Flotta has sold his business to an Australian restaurant group that will keep the name, but likely change what made Caffe Dante so lovely, familial, and comforting. It's a real loss for New York.