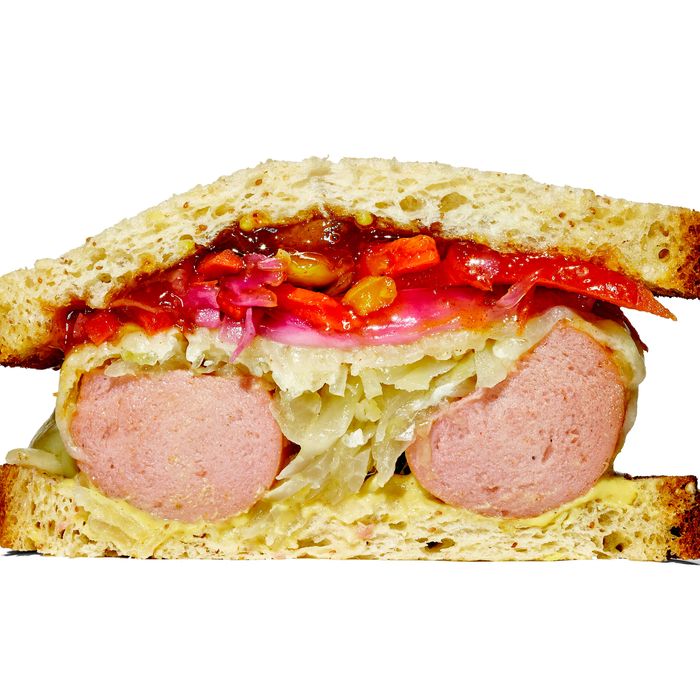 For starters, there's a knockwurst sandwich.
Photo: Bobby Doherty
It's been three and a half years since Dewey Dufresne (a.k.a., Wylie's papa) introduced his Byggybeef braised short-rib sandwich at the Feast of San Gennaro. The Byggybeef (you can refresh your memory of it here) was a hit, and its San Gennaro debut was supposed to be a mere prelude to the brick-and-mortar sandwich shop that would soon follow. Well, folks, the timing was a little off. But that is the topsy-turvy New York restaurant world for you. On the plus side, the delay has afforded Dufresne the opportunity to reflect upon sandwiches and dutifully scribble down notes regarding his thoughts on bread, condiments, and construction on whatever napkin or scrap of paper happened to be nearby. To bring you up to speed, here's a refresher, and a briefing on what to expect when the 20-seat shop opens for real on Clinton Street across from the late, great wd~50 next month (we hope!).
1. Before he became better known as Wylie's dad, Dewey Dufresne was a big-time restaurant man in 1970s Providence, Rhode Island, where he ran two seminal restaurants — a sandwich shop called Joe's Old Abandoned Grocery Store that allowed customers to shuffle along a cafeteria-style line and build their own sandwiches, and what might have been Providence's first locavore joint, Joe's upstairs, where Al Forno's George Germon and Johanne Killeen, among other talented chefs, cooked.
2. The signature: Dufresne will offer about a dozen core sandwiches at the Clinton Street shop, but the Byggybeef (braised short-rib; American cheese; "XO-llent" sauce; pickled fennel, carrots, and cabbage; optional hot peppers; and pomegranate braising liquid) is his baby. "I hope it becomes my Big Mac," he says.
3. Having a cutting-edge chef for a son with an in at the modernist-cooking-supply shop has its advantages. The puck of short-rib meat in the Byggybeef sandwich, for instance, is kept super juicy and held together with transglutaminase (meat glue); likewise, Dewey will fashion an organic turkey loaf from breast and thigh meat with this sticky stuff.
4. A few more mouth-waterers include the Tuna SOF (a south-of-France-styled pan bagnat on Chinese sesame bread from the nearby Prosperity Dumpling shop), the Knockout (all-beef knockwurst given the reuben treatment), and the Awfullota (like a muffuletta times 10).
5. You can customize these or any other BYGGYZ sandwiches to your heart's content. "It's going to be one of those things where some mathematical genius will come along and figure out that there are like 4,000 sandwich variations," says Dufresne.
6. One combo still in its trial phase: sardines and peanut butter. "It's un-fucking-believable," says Dufresne.
7. Not that there won't be several cold varieties, but Dewey is a hot-sandwich man. "I'm going to heavily emphasize and feature warm fillings," he says. "My preferred method of warming the interior contents of a sandwich are with steam machines called Fresh-O-Matics, something that I used 45 years ago in Providence. They're used mostly to wake up tortillas." Why steam? "Because it makes for a healthier, less greasy sandwich."
8. Brace yourself for a hot baloney craze: "One sandwich that I hope will pleasantly surprise people is thinly sliced hot baloney with melted cheese and the right complementary condiments. The baloney sandwich that most people know is thick sliced and grilled and greasy."
9. For dessert: Dacquoise ice-cream sandwiches conceived by Dewey in collaboration with and produced by OddFellows' Sam Mason. A couple of potential flavors: Boston Cream Pie and Thanksgiving, which might be something like ginger dacquoise and pumpkin ice cream.
10. Here's what the still-in-the-works menu looks like:
AWFULLOTTA
A big boy combo of Dijon mustard, hot pastrami, melted Swiss cheese topped by byggyveg (house made ratatouille mix), roast pork shoulder, sliced mortadella, red onion, sliced soppressata, provolone cheese, giardiniera on pizzabread (focaccia-like)

KNOCKOUT
All beef knockwurst, Dijon mustard, sauerkraut, melted aged cheddar (all warmed), & mango chutney on gluten free multi grain bread with byggymix (pickled carrot, fennel & red cabbage that is a free topping along with hot peppers) &/or hot peppers

BYGGYBANH
Liverwurst, thin sliced boiled ham, sliced mortadella, sliced cukes, byggymix/hot peppers, fresh cilantro, XOllent sauce (blend of mayo & roasted red peppers & a squeeze of lemon) on a byggybun (square ciabatta)

BYGGYBEEF
Braised short ribs, American cheese, byggymix, pomegranate braising liquid, hot peppers (optional), XOllent sauce, on a byggybun

TUNA SOF
Mediterranean inspired on a Chinese sesame fry bread (lunch to no more) olive spread, wild caught tuna, evo, roasted red peppers, artichoke hearts, red onion, anchovies, hard-boiled egg, out-of-season roasted tomatoes, Dijon mustard (all pre made)

BALOANYA
Thin sliced all beef bologna, XOllent sauce, roasted red onions, Havarti cheese (all warmed or cold) on gluten free multi-grain bread with byggymix/hot peppers

BYGGYPYGGY
Harissa spread, roast pork shoulder, sliced boiled ham, sliced capocollo, sliced mortadella, sliced mozzarella (warmed or cold) with rich country style mustard & byggymix/giardiniera on a byggybun

VEGGYLOTTA
Hummus, roasted portobello mushroom slices, a slab of roasted butternut squash, byggyveg, sliced artichoke hearts, cheese of choice (warm or cold) on pizzabread with olive spread or harissa, byggymix/hot peppers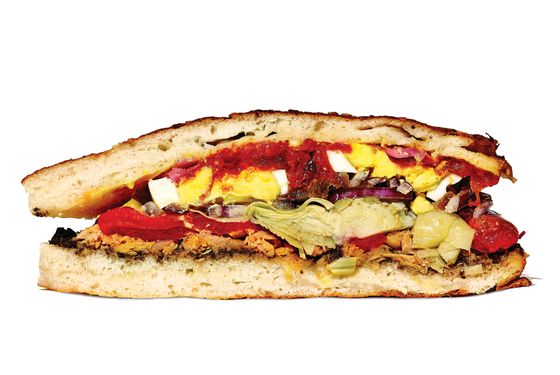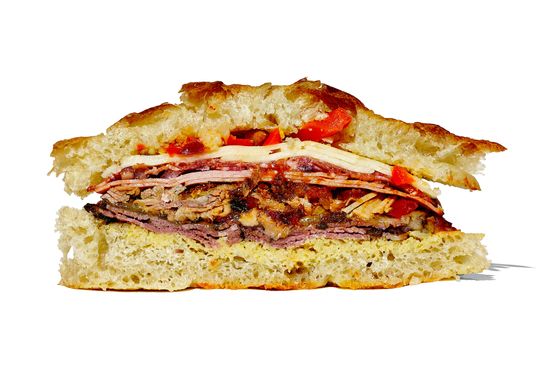 BYGGYZ, 37-39 Clinton St., nr. Stanton St.; no phone yet