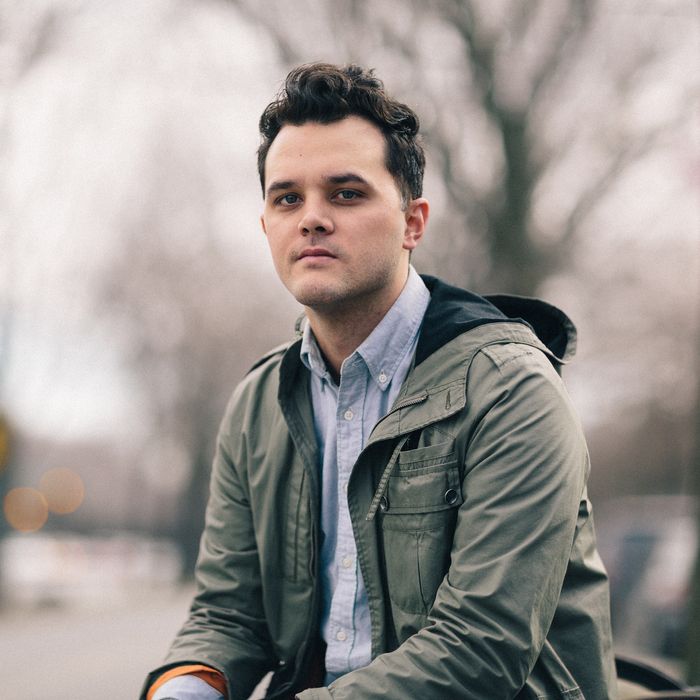 "I didn't come with anything prepared."
Photo: Andrew Shepherd
Brady Williams, the 28-year-old sous-chef who's leaving Roberta's in Bushwick to lead the kitchen as the head chef at Seattle's venerated and justly acclaimed Canlis, is well equipped to deal with a cross-country move. "I grew up all over," he says. "I was born in California, and then I lived in Seattle as a kid. My family moved around a lot, and I moved away from home when I was 15 to go play ice hockey. I really don't have a home — I kind of make it wherever."
It's an attitude that has benefited Williams: During his audition for the Canlis job, he took a risk and experimented with local ingredients, as well as with what he found in the Canlis pantry. (It's more common for chefs to fly with produce in their luggage so they can control a high-pressure audition as much as possible.) Curious about Williams and his career transition, Grub called him up to discuss how it all came about, as well as his plans to mix things up at 64-year-old Canlis.
Are you still in New York, or have you made the move to Seattle yet?
I fly out on Wednesday … Mark and Brian [Canlis, the brothers who run the restaurant] wanted to make sure that I finished strong at Roberta's and also wrapped up my life in New York. I move out there April 1, but I have some time before I actually get into the restaurant to get situated, which is like, really, really helpful.
The news went public just last week, but when did you learn that you got the job?
I accepted the offer around February 10. I've known for a little while. But, of course, there had been a pretty long application process.
How did you get your start as a chef?
I've been at Roberta's for two years, and before that, I was at FT33 in Dallas, which I helped open. And before that, I worked at a number of restaurants in Dallas. I didn't go to culinary school or anything, so I just knocked on some doors. Started at the bottom!
I got a later start than most. I went to university and just, like, studied. But I had spent some time in restaurants. My grandparents owned a restaurant, as did my uncle, so I had actually worked in restaurants growing up.
Did you ever expect to enter the fine-dining scene?
I never ruled it out. Fine dining is such a broad term, anyway. I think that at Roberta's, there's an extreme seriousness about the food and service — it's just packaged in a very unique environment. And of course there's Blanca, too, which I spent some time working in as well.
It wasn't something that I was actively pursuing, but once the opportunity presented itself, I started thinking about it. It's more about who I'm working with and the way they do things.
How did you first connect with the Canlis family?
There are a couple of unique connections that I have with the Canlises. One is my personal mentor, who's on the board of Canlis. He's always told me that they're really good people. I first met Brian when he was here this past summer, doing the NoMad friend-ternship thing. His wife and my wife went to college together, and his wife took our wedding photos.
When I met him in the summer, we didn't talk about this opportunity. I think that he was aware of chef Jason [Franey]'s departure, but it wasn't anything that we discussed in detail. Mark came out to New York in November, and at the urging of my mentor, I called him up and grabbed a beer with him. I learned that the Canlis chef was leaving, and the next week, it became public.
At that point, we discussed it — but not in a way that it might be a good opportunity for me. It was more just like a pragmatic discussion. After that, I went to Japan for a couple weeks on vacation, and when I returned, that's when he first sent me a message planting the seed of an idea about me auditioning. That was at the end of November. I got to know them a bit over the past few months, but again, nothing was really discussed. It's not where my head was at, and I don't think their heads were there, either.
So when did it shift? How did you begin the formal audition process, and what did that entail?
After they first approached me, I took some time to just think about it, and evaluate and process the opportunity. I came to the point of decision to go out there. My wife and I flew out there on a Sunday, got picked up by Mark, and I went straight to the market and did some shopping for the tasting. I started to form a game plan. I didn't come with anything prepared.
The next morning, I was at Canlis very early, and I prepped and cooked for a good eight hours. I had dinner at Canlis with my wife, and Mr. and Mrs. Canlis joined us for a few courses, which was cool. I prepped for a good seven hours the next morning. I was still on Eastern Time, so it worked to my advantage. I did the tasting at noon, and that lasted three hours. Two weeks later, I heard the news.
What, exactly, did you cook?
Oh, man! I did seven courses. They asked to see me in that audition — like, cook your food and let us see who you are. I didn't bring anything from New York, just a few seasonings, a couple oils, and fish sauce. I played off their menu — what was in season there, what they had in their pantry and in their coolers — and married that with some things I found at the market.
I did an uni course, a beef course, a scallop course … I can't even remember at this point. The uni was Chawan Mushi — a Japanese egg custard with uni.
I read that they liked that your cooking has a Japanese bent.
Totally. My mom's from Japan, and my wife is Japanese-American. That's a huge part of just who we are as people, and it plays itself out in my cooking.
It must be a tricky balance to strike: You want to bring your own vision to the restaurant, but also honor the classics. Is that hard to wrap your head around?
That's a good question, and it's something I've thought a lot about, in terms of the decision to go out there and accept the offer. Canlis has such a rich and storied history, and I don't think you can ignore that. Those classics are classics for a reason. People have been eating that salad for 60 years.
It has to be understood in terms of context. Mark phrases it well: It's like you're driving. Your eyes are forward, but you're always looking in the rearview mirror, constantly checking behind you. But actually, there were a lot of Japanese influences from early on at Canlis, from the service to [restaurant founder] Peter Canlis's decision to serve Wagyu beef and Hawaiian fish when no one else was doing that. So I don't think that my Japanese influence is necessarily out of context with that restaurant — in fact, I think it fits particularly well there.
Do you have an idea of some of the new dishes that you're going to add to the menu?
I think a lot of the changes are just going to happen naturally. There's no hard timeline … But I am really looking forward to embracing the Pacific Northwest and the wild ingredients that are there. The seafood out there is incredible, so being able to have that quality and variety of seafood in my backyard is awesome.
Very different from Bushwick!
Yes, it is a very different environment than Bushwick, for sure.
Are you feeling nervous?
Yeah! I think I should be. If I was not nervous, I would be overconfident, right? But it's a nervous energy. There's a lot I still don't know, and there's a lot I'm going to figure out once I get out there.
You're one of many young, talented chefs to recently leave New York. Why do you think so many people are going other places?
New York's a very transient city, in general. But it is such a great food city — it's at the top of every industry. I can't speak for anyone else, but I think the internet has a lot to do with visibility these days. You can cook great food anywhere, and share that with anyone: You don't have to be in New York or San Francisco or Chicago to have a great American restaurant that's on the radar.
For me, I wasn't looking to leave New York. My wife and I were planting roots here. We bought a house in the Hudson Valley. It was just that the right opportunity came along, and it was one that I felt like I couldn't turn down.