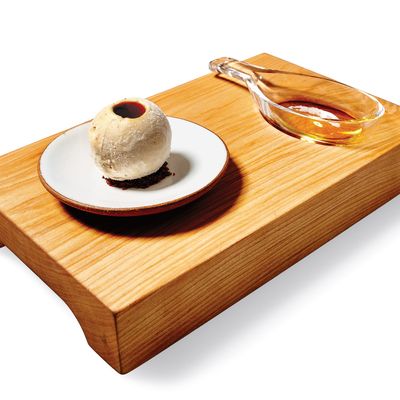 Photo: Bobby Doherty/New York Magazine
As penicillium is to cheese, botrytis is to wine: a beneficial mold that transforms raw materials like milk and grapes into such complexly flavored paragons of human achievement as Roquefort and Sauternes. Botrytis is also the unlikely name of the tenth course of 13 on Eleven Madison Park's tasting menu, a "pre-dessert" inspired by the flavor of grapes lucky enough to have been infected with the stuff, also known as noble rot. This fungus dehydrates and shrivels late-harvest berries, concentrating their sweetness and acidity to yield world-class wines like Château d'Yquem and Tokay Essencia. Wine director Dustin Wilson opted for a homegrown Finger Lakes Riesling instead and collaborated with the kitchen on the accompanying dessert. Usually, the wine is meant to pair with the food; in this case, it's the opposite.
Mouse over or tap the image to read more.
On the menu at Eleven Madison Park, $225 prix fixe; 11 Madison Ave., at 24th St.; 212-889-0905.
*This article appears in the March 23, 2015 issue of New York Magazine.