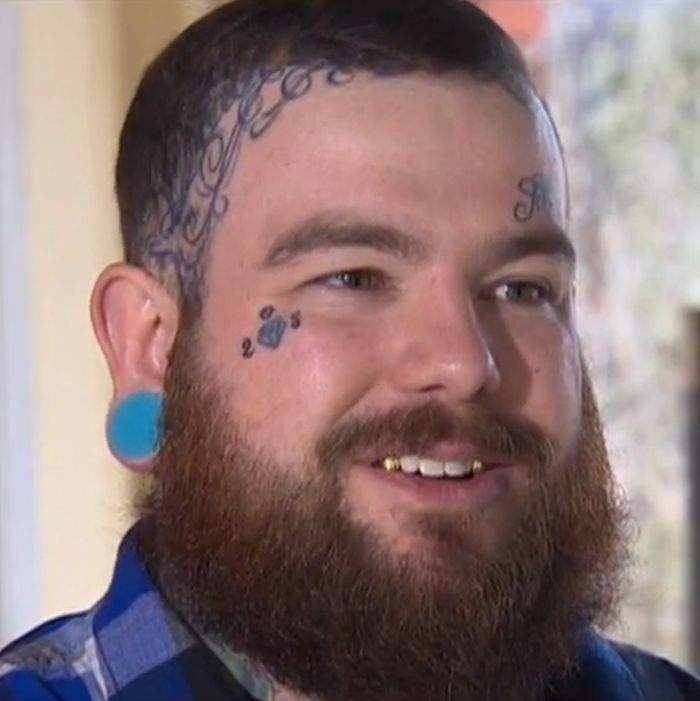 "I have two cats. I'm the furthest thing from a gang member."
Photo: KHOU
Down in Houston, there's a restaurant called Bombshells that sells "Waterboarding" and "Don't Ask Don't Tell" shots. It's a classy establishment, so, naturally, owner Rick's Cabaret felt he had the right to kick out a customer with face and neck tattoos.
The customer, Erik Leighton, says that after him and his friend walked in, police escorted them outside. The officer told them it was because of the restaurant's no-face-tattoos policy. In turn, Leighton complained on Facebook, and, within hours, Bombshells was deluged with Yelp complaints and had to remove its Facebook page.
A staffer at the restaurant eventually messaged Leighton privately to apologize, saying that Houston has lots of gang members, and "one common factor with many of the gangs are face and neck tattoos." Meanwhile, poor Leighton says, "I have no criminal record. I work hard at a plant. I have two cats. I'm the furthest thing from a gang member." If owning cats doesn't prove someone's innocence, nothing will.
[USAT]