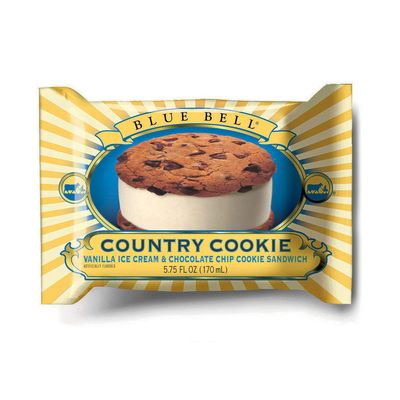 One of the three tainted products.
A listeria outbreak linked to three deaths has forced Blue Bell Creamery's first recall in its 108-year history. Five patients already in a Kansas hospital tested positive for the bacteria after drinking milkshakes made with Blue Bell, officials said, and three of them ultimately passed away.
The tainted ice cream was traced back to a single machine at Blue Bell's production plant in Brenham, Texas. Tests of more products from that machine, in South Carolina and Texas, also came back positive for what the FDA called four "rare strains" of Listeria monocytogenes, bringing the number of tainted products to three: Scoops, Chocolate Chip Country Cookie Sandwiches, and Great Divide Bars. Luckily, none of them were sold in grocery stores, but as a precaution, Blue Bell has recalled a total of 10 products, several of them sold in stores. A rep says no cups, pints, or half-gallons were affected, and that Blue Bell believes it actually recovered all of the recalled items over the weekend. Still, more cases of listeriosis could pop up because of listeria's long incubation period (up to 70 days).
USA Today reports the machine was shut down "days, if not weeks," before the outbreak because a test had come back positive for listeria on that particular machine.