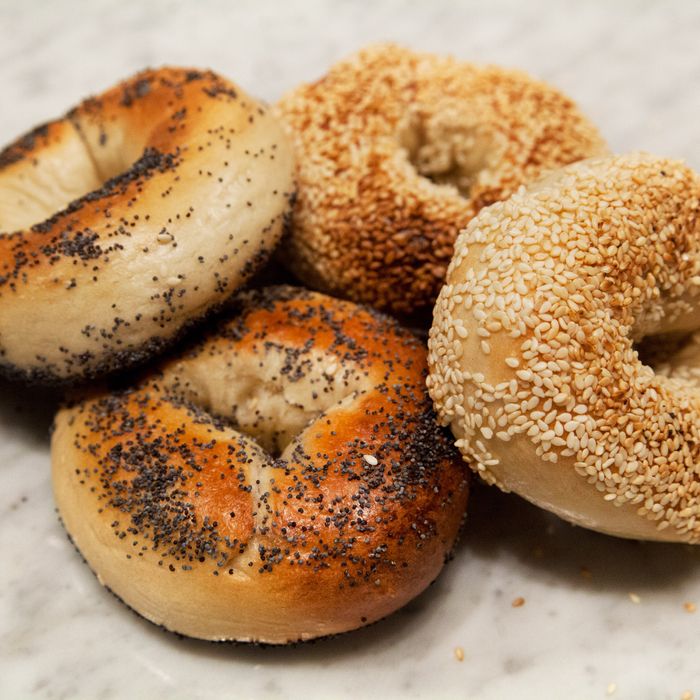 It makes for a good base.
Photo: Konstantin Sergeyev
As part of its brand-new guest-chef collaboration, Black Seed will partner with New York chefs on limited-edition sandwiches. Co-owners Noah Bernamoff and Matt Kliegman have put together a pretty awesome lineup, and it all starts on Monday.
From March 9 to 15, the Nolita shop will feature Ivan Orkin's Japanese-Everything-spice bagel with aonori (or, seaweed) cream cheese and ikura-egg salad.
Next up, from March 16 to 22, is Alex Guarnaschelli's creation: a smoked-salmon belly salad with cream cheese and salt-and-vinegar chips — all on a toasted sesame bagel. (This is unusual, as Black Seed doesn't toast!)
Hometown Bar-B-Que's Billy Durney's rye-Everything bagel — with slow-cooked pastrami bacon, baked eggs, and Gruyère — will run from March 23 to 29.
Perhaps the most exciting bagel, though, is the one from Mission Chinese Food's Danny Bowien and Angela Dimayuga. It's a squid-ink bagel with white poppy seeds, whipped anchovy butter, and Iberico ham, and it's available from March 30 to April 5.
The series ends with Missy Robbins, who's actually opening a restaurant with Kliegman. Her sesame bagel, available from April 6 to 12, comes topped with burrata, soppressata, basil, and Calabrian chilies.