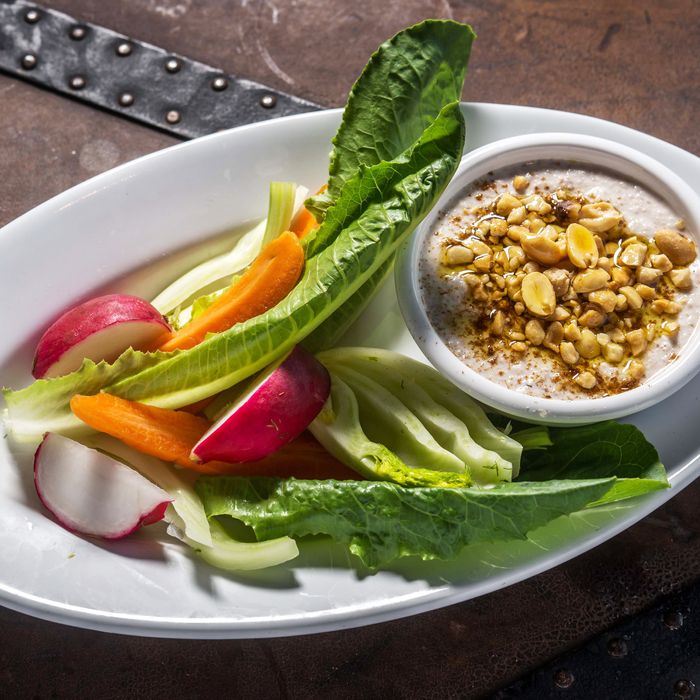 Boiled-peanut hummus at Porchlight.
Photo: Paul Wagtouicz
While ever-more-ambitious kitchen staffs are making it tricky to figure out exactly what qualifies as "bar food" these days, that also means New York restaurants and bars are taking their drink-accompanying food more seriously than ever. Ambitious restaurants like the Cecil, Bowery Meat Company, and Empellón Cocina all have special (and sometimes secret) bar-only dishes, which is great for when you're waiting for a table and just need a snack. Plus: New cocktail dens — like the Bonnie, Seamstress, or Up & Up — also offer interesting dishes that go far beyond the usual deviled eggs. In honor of this uptick, here are 15 standouts:
What: Pork Rillettes
Where: Up & Up
Price: $11
This brand-new cocktail bar on MacDougal Street serves food, too. Chef Jessica Meter's no-frills menu includes whipped chickpea puree, duck confit, and chicken-liver mousse.
What: Piri Piri Fried Chicken
Where: The Cecil
Price: $16 for half, $26 for whole
We're blowing up the spot on this one: The celebrated Harlem restaurant served piri-piri fried chicken at the bar, but it's not listed on the menu.
What: Smoked Shrimp Cocktail
Where: Seamstress
Price: $7
This new Upper East side cocktail lounge offers a varied menu, with things like hot griddlecakes with smoked farmer's cheese, fried potatoes, and a savory porridge of Anson Mills grains.
What: Boiled-Peanut Hummus
Where: Porchlight
Price: $15
Danny Meyer's new bar offers plenty of food, like smoky beef jerky and this Southern-inspired boiled-peanut hummus, which comes with enough vegetables to make your night of drinking seem downright virtuous.
What: Muffuletta
Where: Bowery Meat Company
Price: $5
Josh Capon and executive chef Paul DiBari recently began offering snacks in the bar area, and selections include a Muffuletta with assorted sliced meats, provolone, and olive salad; a French Dip with shaved rib-eye, horseradish cream, and oxtail broth ($15), and Wagyu meatballs with tomato-pan gravy ($5 per piece).
What: Grass-Fed Burger
Where: Evening Bar
Price: $22
Andrew Carmellini didn't put a burger on the menu at Little Park, but it is available at the bar — also inside the Smythe Hotel. Plus: The food menu also includes warm Vermont brie ($22) and chocolate-rye cake ($12).
What: Crisp Anchovy Sticks
Where: SixtyFive
Price: $8
The cocktail bar inside the Rainbow Room launched its bar-food menu this week, with caramel popcorn, truffled potato chips, Parmesan pizza, and beef sliders.
What: Duck Meatballs Yakitori
Where: Bara
Price: $7
Ian Alvarez, an alum of Momofuku Noodle Bar and French Louie, recently opened this restaurant — a cross between a French wine bar and a Japanese izakaya. These sweet-and-spicy meatballs, available at the bar, are grilled and glazed with homemade tare sauce, and served with miso-mustard.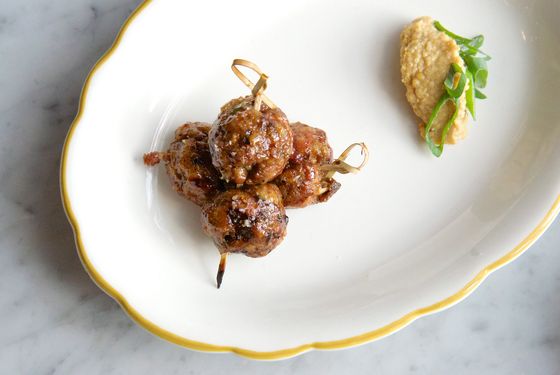 What: Cheeseburger Taco
Where: Empellón Cocina
Price: $5
Alex Stupak's famed cheeseburger taco — yes, really — is available as a bar exclusive.
What: Whipped Ricotta and Bacon Jam Toast
Where: The Bonnie
Price: $10
One of Astoria's newest wine bars offers a variety of snacks, like this toast with fried rosemary, shallots, and celery hearts — and pickled eggs with smoked-chile aïoli and pickled shallots ($5).
What: Chicken Skin
Where: All'onda
Price: $8
From 5 to 6 p.m., Tuesday through Friday, All'onda offers a ton of great snacks at the bar: black-truffle arancini ($12), polenta chips ($9), chicken skin with offal and maple-sherry glaze, and several more.
What: Gorgonzola Burger
Where: Maialino
Price: $15
While it's not new-new, it's still largely unknown that Nick Anderer makes an amazing burger, available late nights at the bar. He uses housemade black-pepper pancetta, escarole, gorgonzola, and rosemary-brioche bread.

What: Clam Chowder
Where: Bar Sardine
Price: $17
New to Bar Sardine's menu is this clam chowder, with scallops, bacon, croutons, and herbs.
What: Octopus Escabeche
Where: Booker and Dax
Price: $9
Besides David Chang's famed bao buns, Booker and Dax offers a few other bites. This new braised-octopus dish is served inside a mason jar, along with escabeche brine, fingerling potatoes, red onions, and parsley. It's finished with paprika oil and grilled bread.
What: Fried Mozzarella Balls
Where: Fifty Paces
At Marco Canora's new East Village wine bar, he's featuring classic bar snacks, like bacon-and-chive deviled eggs ($7) and cheese-and-meat boards.