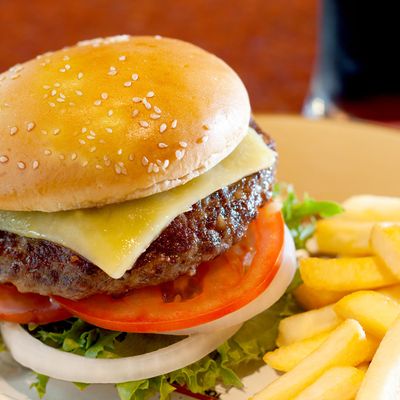 One of the rogue burgers in action.
Photo: Courtesy of Benihana
Benihana drama, often with an obligatory "bringing out the knives" joke, is nothing new: Ever since Keiko Aoki took over Benihana of Tokyo for her late husband, Rocky Aoki, in 2008, she's feuded with Benihana Inc., which is a separate division of the company that operates restaurants in the U.S. and South America. Their latest disagreement is over the "Beni Burger" — a hunk of meat topped with shrimp tempura and special sauce.
Aoki, who actually manages the location at the Hilton Hawaiian Village Waikiki, created the burger as a way to lure more lunchtime traffic there. But, to make things quite complicated, Benihana Inc. owns the restaurant managed by Aoki, and the U.S. branch says that a burger violates company bylaws. Apparently, putting meat on a bun is classless and cheapens the ever-elegant Benihana brand.
After a court ruled Aoki couldn't sell the Beni Burger, she tried changing the sandwich's name to "Tokyo Burger" — until a different judge issued an injunction against that, too. She then moved sales of the burger outside, which brought Benihana Inc.'s attorneys back to court yet again, this time in talks of terminating the franchise agreement. It certainly doesn't help that Benihana Inc. hates other changes Aoki has instituted.
The restaurant remains open as the lawsuit progresses — and it looks like it's going to get even uglier. Still, as Fortune says, this kerfuffle is "downright friendly" compared to what Aoki's attorney calls the "Gone With the Wind" legal saga that started in 2008. By now, courtroom drama has unofficially become the performance-art side of Benihana's dinner theater.
[Fortune]