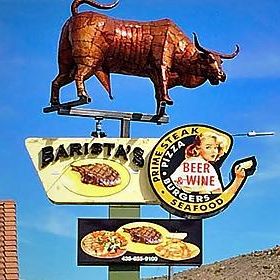 Boo.
Photo: St George News
Ostensibly, the point of any business's sign is to draw attention to the business itself. So it's difficult to argue with the results of the display at Barista's, in Hurricane, Utah. As you will almost certainly recall, owner Stephen Ward made national headlines with his restaurant's sign, which featured a giant bull dick.
Alas, it all may have been too beautiful for this world: After residents' complaints and a Change.org petition escalated tensions in the small town, Ward decided over the weekend to castrate the sign after all. Barista's bull will live on sans penis. But know this, dick critics: Ward didn't do this to appease you. He did it for himself. Per the St. George Spectrum, Ward says he was mostly annoyed because the giant conical apparatus just didn't look right to him. So he called the town to offer a pre-surgery statement, and he's very happy with the results:
I told them I am not removing the penis for you or because of your complaints. I don't like you. I'm doing it for me … I just decided it would look better without the weenie. And oh my God! It's beautiful.
Beautiful probably isn't the word we'd use.