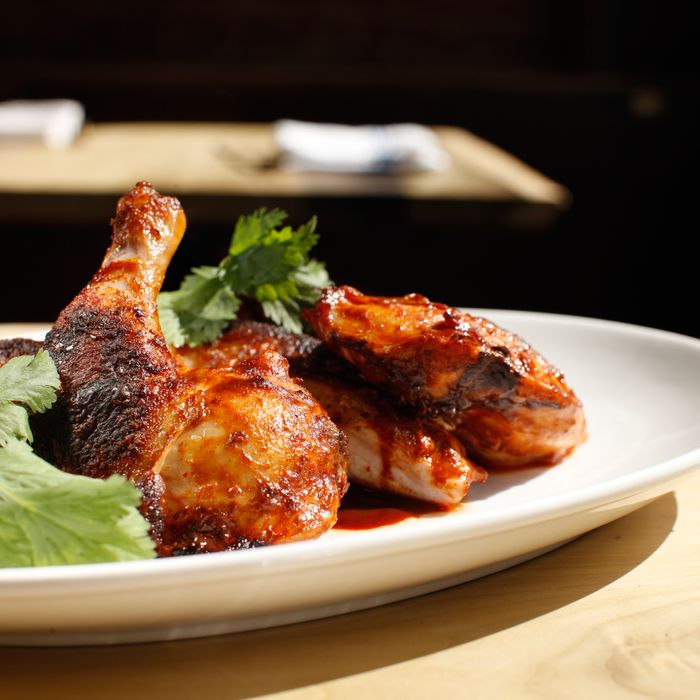 The restaurant's Pasilla chicken with focaccia and cilantro.
Photo: Melissa Hom
Yes, we've already given you a preview of the cheeseburger and its distinctive Dutch crunch roll at Bar Bolinas, opening this Thursday in Clinton Hill. But there's more to the place than exotic buns. The restaurant replaces neighborhood standby Maggie Brown and takes its name from the hippie Marin County beach town north of San Francisco whose residents are famous for tearing down highway signs to thwart would-be day-trippers. We imagine that won't be the case at Bar Bolinas, where husband-and-wife chefs and California natives Nate Smith and Sophie Kamin want their coastal-American menu and NorCal vibe to actually attract crowds. To that end, they've aimed for a beachy effect with light, reclaimed-wood walls, and a bar fronted with California redwood and topped with stone that, for Smith at least, evokes the Pacific.
In this setting, Smith (a disciple of the Spotted Pig's April Bloomfield) diverges from the gastropub fare he serves at Williamsburg's Allswell and expands his pantry to include eclectic ingredients with deep roots in California, be they Asian or Mexican. Inspired by West Marin's unique mountains-meet-the-sea geography, the menu goes heavy on seafood and grilled meats, from raw and broiled oysters to marinated tri-tip with smoky beans. Kamin is handling desserts, like strawberry fool with almonds — and that San Fran shout-out burger bun. Here's a look at the renovated space and some of the food.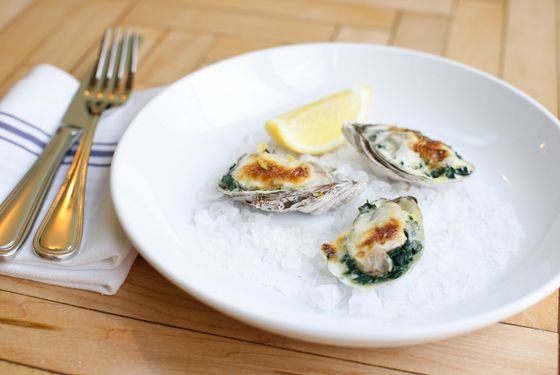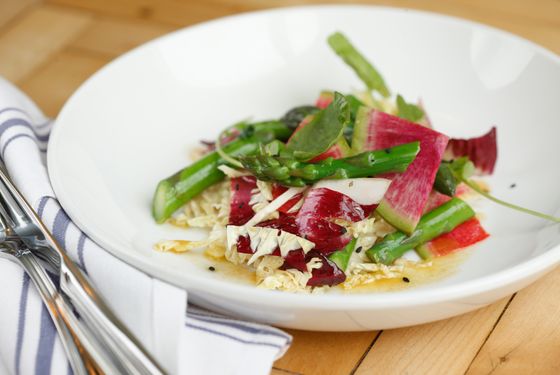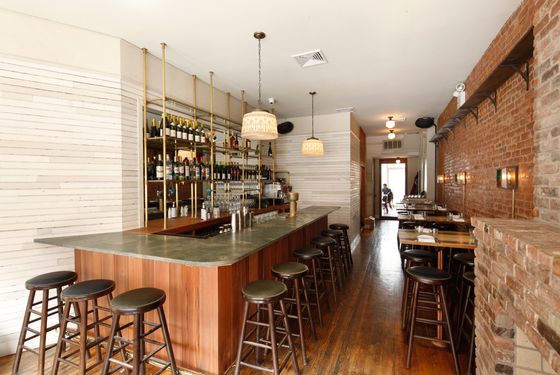 SNACKS
FRIED PEANUTS..3
SEEDY BREAD WITH CULTURED BUTTER ..5
EAST AND WEST COAST OYSTERS ON THE HALF SHELL 3.
OYSTERS BINGO..10
OYSTER SHOOTER..8
MOJO POTATOES..6
SMOKED SARDINES, GRILLED BREAD, BEET HORSERADISH 12.

VEGETABLE
GREEN CHILE COCONUT SOUP..8
CABBAGE, TREVISO, ASPARAGUS & SESAME..12
GRILLED SWEET POTATO, BROCCOLI DI CICCO & CHILE..10
WARM ARTICHOKES, PARMESAN, CELERY, OLIVE..11
WILD ONION FREEKEH WITH MEYER LEMON & CAULIFLOWER..18

FISH
GRILLED SEPIA WITH GREEN BUTTER & KOHLRABI..15
SEAFOOD SAUSAGES, MUSHROOM, GINGER & FRESH TURMERIC..16
TAGLIARINI WITH UNI, CHIVES & CHERVIL..21
ROASTED WILD STRIPED BASS WITH WHITE BEANS, UPLAND CRESS..27

MEAT
PORK BELLY, LITTLE GEM, FERMENTED CHILE..12
PASILLA CHICKEN, FOCACCIA, CILANTRO..25
GRILLED TRI-TIP STEAK WITH SMOKEY BEANS..26
CHEESEBURGER WITH PICKLES & FRIES..16

SWEETS
STRAWBERRY FOOL WITH ALMONDS..8
PISTACHIO CAKE WITH DARK CHOCOLATE..8
ICE CREAM..4..ADD ESPRESSO..3
CHOCOLATE-CARDAMON OR GINGER

455 Myrtle Ave., nr. Washington Ave., Clinton Hill; 718-935-9333